Whole Foods on Track for Mid-2014 Williamsburg Opening
---
---
After securing a $45 million loan from Meridian Capital Group to finance the development of Williamsburg's first Whole Foods, the healthful grocery Goliath is targeting a mid-2014 debut.
The 35,000-square-foot store at 240-242 Bedford Avenue is part of a 150,000-square-foot development that will take up a full block of North 4th Street between Bedford Avenue and Berry Street. The project will also include a New York Sports Club and luxury rental apartments.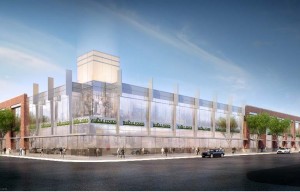 "Williamsburg has firmly established itself as one of Brooklyn's top residential neighborhoods and the introduction of 240 Bedford brings with it a Whole Foods Market and a strong set of national tenants to this growing area," Tal Savariego, a vice president of Meridian, told Real Estate Weekly. "Meridian actively negotiated with the borrower and lender to arrange a competitive construction loan that will bring Williamsburg its first premier supermarket chain, an amenity that will further enhance the neighborhood's desirability as a residential hot spot."
Williamsburg's money man-approved hotness is old news by now. And Anthropologie, J. Crew and Urban Outfitters are among the national retailers confirmed or rumored to be eying the neighborhood. A question, though, is just how much mass-market heat Williamsburg can handle before it loses all of its cool.