The Garment District Name Remains the Same, but a New Logo Glows
---
---
Garment District landlords and business leaders have opted to retain the same name for their business district, but they have a new logo.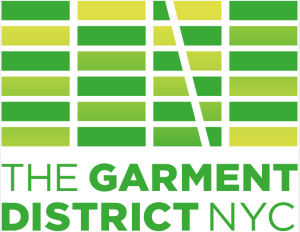 The former Fashion Center Business Improvement District, now the Garment District Alliance, brought in The Brand Union, a global branding and design agency, to design the logo.
The symbol is the map of the city blocks that make up the Garment District, where Eighth Avenue, Seventh Avenue, Broadway and Sixth Avenue form the word "IN" – to connect with all that is in the new Garment District.
The logo, which will appear on banners, signage, uniforms, the Alliance website and marketing materials being developed in the coming months, was officially approved by the organization's Board during a Sept. 18 vote. 

The Brand Union also made sure, through interviews and surveys with stakeholders inside and outside of the neighborhood, that the Garment District was in the area's best interest, according to a statement from the Alliance, which announced earlier this week that the name would stay the same.
The new brand will adorn the Information Kiosk at the corner of 39th Street and 7th Avenue, which has been redesigned, timed to change during the reconstruction of the plazas at 1411 Broadway.
Since 2008, 28 hotels have opened in the Garment District, with more on the horizon – including the Archer, slated for 2014. In addition, more than 100 tech firms now call the Garment District home, according to the Alliance.