Tax Exemption for Related's Hudson Yards Project Approved
---
---
The New York Industrial Development Agency last week approved a $328 million tax exemption for the Related Companies' construction of the 80-story North Tower and connecting retail center at the Hudson Yards development site.
The exemption, outlined in the 2006 Hudson Yards Uniform Tax Exemption Policy, will see Related benefit from a 40 percent abatement on property taxes at the development site for four years. The taxes will then begin to phase back in through the 19th year of the abatement, according to Jonathan Gouveia, senior vice president of strategic investments at the New York City Economic Development Corp.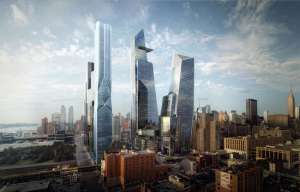 "The [abatement] actually goes back a number of years," Mr. Gouveia told The Commercial Observer. "We have the UTEP and a subset specifically created for Hudson Yards which mapped out how the benefits for all of these projects should be distributed."
The proposed 2.4-million-square-foot North Tower of the Hudson Yards project is likely to be anchored by Time Warner, according to numerous reports. The media company would join Coach, SAP and L'Oreal—all three committed to the South Tower—as major tenants at the far West Side development. A 1.1-million-square-foot retail development has been proposed nearby and would also benefit from the tax exemption.
"In terms of the impact to the city, this is a relatively modest investment that will lead to a world class neighborhood that will benefit New York for generations," noted Patrick Muncie, IDA spokesman.
Earlier this month, the city's Independent Budget Office preemptively issued a statement warning that Hudson Yards has already fallen behind projected revenue production. An IBO report found that from 2006 through 2012, Hudson Yards yielded $170 million in tax and fee revenues, $113 million less than projected.
The gap, however, is easily explained, according to Mr. Gouveia.
"The project was delayed because of the financial crash and in those years the city was paying debt service on the bonds for the [extension of the 7 line subway], something that couldn't have been foreseen," he said.