Midtown Availability Plunges in Third Quarter
---
---
With three quarters in the books and the Manhattan office market strong, the availability rate dropped 20 basis points in the third quarter to 11.2 percent—the lowest since 2008. The overall average asking rent increased $1.41 per square foot to $63.55—the highest since 2008. But how did the three major markets perform in the third quarter?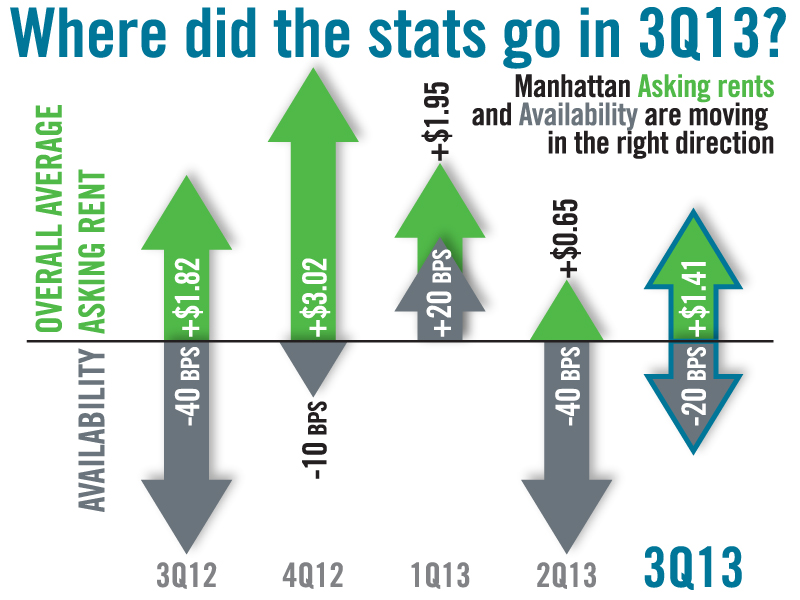 Midtown availability dropped 20 basis points in the third quarter to 11.2 percent, while overall asking rents rose $0.84 to $70.62 per square foot. Midtown South availability actually increased in the third quarter by 40 basis points to 8.7 percent, but overall asking rents jumped $3.60 to $62.92 per square foot. These changes can be mostly attributed to 51 Astor Place's 400,000 square feet being added to the inventory. After an abundance of available space hit the market in Downtown in the second quarter, the availability rate plummeted 110 basis points back to 13.5 percent. Overall asking rents climbed $0.43 per square foot to $47.73.
Out of the 17 submarkets, which ones performed the best for both Class A and Class B space in the third quarter? Class A availability in the Hudson Square/Tribeca submarket is the lowest in recorded history. At 5 percent, availability declined 270 basis points from the second quarter. Grand Central showed some life in the third quarter, as the Class B availability rate had the largest decrease of all the submarkets, dropping by 150 basis points to 11.4 percent. The largest Class A asking rent increase was in the Flatiron/Union Square submarket, as asking rents grew $3.23 to $74.26. Class B rents continue to thrive in today's market, as four submarkets had increases of $3.00 or more. Midtown West/Columbus Circle had the largest uptick in Class B rents, as they skyrocketed $6.72 per square foot to $53.37.
After two consecutive strong quarters, expect the fourth quarter to continue the trend, as fourth quarters typically see an increase in leasing activity, which will help propel availability and asking rents.