LES Soho House Gets Liquor License Approval
---
---
The State Liquor Authority approved the Lower East Side  Soho House's liquor license application yesterday afternoon, ending months of occasionally ugly neighborhood contretemps.
Management for Ludlow House, as the social club at 139 Ludlow Street is called, convinced the SLA that the semi-private venue would provide a "public benefit" to the neighborhood. Soho House, which began in London as a media hangout, currently has 11 "houses" around the world.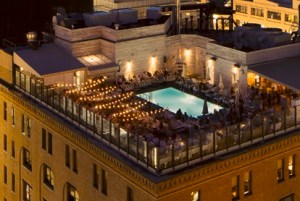 The five-story Ludlow House plans to open for members between 7 a.m. and 2 a.m. daily. It will include fitness classes, work spaces, food, drinks and a 1,500-square-foot rooftop. However, unlike New York's other Soho House–a Meatpacking District branch opened in 2003–no alcohol will be allowed on the rooftop per SLA orders.
Ludlow House announced its designs on the neighborhood back in March, saying it would take over a former funeral home. Founder and CEO Nick Jones quickly sent letters to neighbors wary of another nightlife magnet in their bar-saturated community.
The Lower East Side's notoriously fickle Community Board 3 denied Ludlow House a liquor license in May. DNAInfo wrote that CB3 District Manager Susan Stetzer had no comment following the SLA's verdict.
One neighbor called the prospective clubhouse "an assault on any semblance of normalcy for those who live nearby.