Convene Conference Centers Bring Cutting-Edge Technology to Commercial Retail Spaces
---
---
New York's leading developer and operator of urban day conference centers, Convene, is getting ready to open its newest center at 101 Park Avenue in December. The company's most recent center at 32 Old Slip, which opened in April, has quickly become popular with local corporations looking to host their meetings in a space that offers cutting-edge boardroom technology.
"We take a vanilla office building and turn it into a Google-plex of sorts," said Christopher Kelly, Convene's co-founder and principal.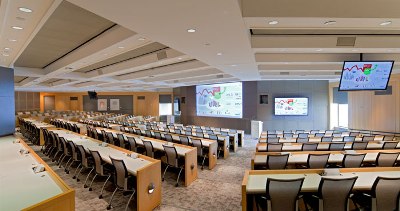 In total, Convene's three existing locations cover 110,000 square feet of leased commercial real estate in Manhattan.
"We saw a trend of companies holding smaller off-site meetings and trying to cut corporate real estate spending but also looking for venues that meet all of their technology needs," said Chris Gulden, senior vice president of Beacon Capital Partners, which owns 32 Old Slip. "More and more often, you get tenants looking at ways to shrink the amount of space they need to do their business. Rather than building conference rooms into tenant space, they're running the numbers and seeing that it makes more sense to outsource to Convene."
Convene's centers are wired to broadcast simultaneously from one conference room to another (or any other remote location) and feature high-definition video conferencing, digital touch whiteboards by Sharp and Cisco infrastructure at enterprise-level bandwidth speeds. They also use redundant ISP backups from different ISP providers, and TekScape independently monitors their entire IT network on a daily basis.
"You can interact with the meeting the same way you watch a football game; you're not confined to a single seat where you have to sit and listen. You're immersed in the content," said Mr. Kelly of Convene's "TED-like" conference centers, which utilize the very same IMag (short for "image magnification") technology.
Additionally, a Crestron Touch user-control interface allows conference participants to control their environments and have access to all of a room's resources at the touch of a button, including in-room ceiling microphones that come in handy when public companies need to record meetings for compliance purposes.
Convene also has a leg up over hotels, everyone's long-time go-to for meetings, since there's no extra charge for Wi-Fi, projectors or add-ons. Tenants of the buildings that house Convene centers receive a discount on room rental fees, and clients from the outside pay normal rates.
Convene plans on opening its first center outside of New York City in Tysons Corner, Va., later this fall. —Helaina Hovitz