City Approves 13-Story Cooper Square Dorm
---
---
The Department of Buildings recently approved plans for a 13-story dormitory on East Sixth Street near Cooper Square.
Developer Arun Bhatia submitted an application with the city in August of 2012 for what was then a 9-story student housing building. The paperwork reveals a property with 55 housing units and 3,517 square feet for commercial space.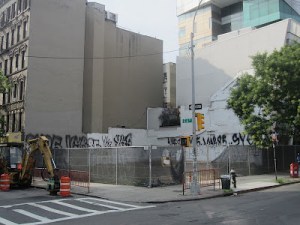 EV Grieve noted that the Arun Bhatia Development Organization has previously built dorms for Marymount Manhattan College and the New School. The lot previously housed Asian Pub, a bar popular with frugal college boozers which closed in early 2011 before it's building was demolished.
Neighbors have not taken kindly to the planned dorm and no announcement has been made at to which local school or schools will take advantage of the news beds.