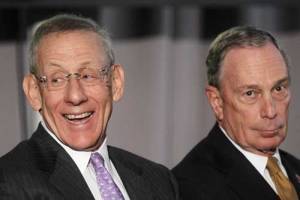 The candidate's address on economic growth began by extolling the potential for real estate development to generate prosperity.
Having supported the Atlantic Yards project at the height of the hysteria it provoked more than five years ago, this pro-development mindset came as small surprise. There had also been the candidate's embrace of another fraught Brooklyn real estate proposal: Toll Brothers City Living's quest to dot 450 acres of Gowanus Canal waterfront with 12-story residential towers. Toll Brothers President David Von Spreckelsen was impressed and earlier this year threw a fundraiser for the candidate at his Wall Street office.
It may concern Bill de Blasio's more progressive acolytes that it was the public advocate, Democratic candidate and overall front-runner in the race for mayor and not his Republican rival, Joe Lhota, whose speeches, actions and financial support from real estate executives paint him as a friend of the industry.
After all, Mr. de Blasio rose to the top thanks in part to his relentless fidelity to the mantra of the Michael Bloomberg years writing a tale of two cities. Brooklynites, in particular, could take umbrage to Mr. de Blasio's support of Atlantic Yards and the Toll Brothers project, two developments viewed for a time as death knells for Park Slope, the progressive hotbed that both projects abut and where Mr. de Blasio lives.
A front-page New York Times article last month described a young Mr. de Blasio's support of the Sandinistas when he was a young activist. Naturally, it delighted more conservative foes eager to portray Mr. de Blasio as the most traitorous pinko since Hanoi Jane.
Yet the leftist tone of Mr. de Blasio's campaign doesn't jive with a speech he made in July, weeks before Dickensian sloganeering–and a video ad that Mayor Bloomberg memorably called racist–vaulted him to the top of the polls.
"We can't afford a process rife with delays, subject to knee-jerk NIMBYism and tangled in bureaucracy," Mr. de Blasio said in a speech at New York University's Wagner School of Public Service.
In fact, Mr. de Blasio's stance on real estate has drawn comparisons in The New Yorker and Business Insider to those of Mayor Michael Bloomberg, whose business-friendly and pro-development leanings Mr. de Blasio's unlikely ascension is said to have repudiated. His comments on the industry also invite comparison to Mr. Lhota's, albeit with a thick coating of affordable housing talk.
In an interview with The Real Deal last month, both candidates said they supported continued rezoning of the city, an extension of the 421-a program (with modifications) and a reformed property tax code. Mr. Lhota voiced his unequivocal support of the Midtown East rezoning proposal, while Mr. de Blasio demanded that increased attention be paid to its effect on infrastructure.
Given the overlap, it's understandable that many New York real estate owners are more concerned with the candidates' management experience–or lack thereof–than party affiliation or concrete legislative proposals.
"Lhota at least has the MTA under his belt," said one president and chief executive who requested anonymity. ("You, of course, realize that once I name my preferred candidate and he loses, I'm on the mayor's shit list," he told me at the start of our interview.)
"Would I like to see someone with more municipal experience?" he said. "Sure. And that has nothing to do with Republican or Democrat. I'd like to see someone who has dealt with billion-dollar budgets or building projects as opposed to someone who has to rely on people we haven't elected. There's a lot to be said for running this city, and [Mr.] de Blasio–I don't know what he ran to make him capable.
Now, because this is a Democrat-voter city, the likelihood of de Blasio winning is probable. What the hell has he done?"
Looking forward, the things Mr. de Blasio has said he will do include requiring developers to build affordable units in exchange for new zoning laws, amending land-use rules to protect industrial districts and expanding the use of tradable development rights. On the residential end, he will look to legitimize accessory dwelling units and "granny" flats. He's in favor of public-private partnerships such as Related Companies and Oxford Properties Group's Hudson Yards project with the MTA, so long as they're not formed with the intention of converting public assets to private ownerships.
"I fundamentally believe that the relationship between the City and its real estate developer community needs a reset," Mr. de Blasio said in an email to The Commercial Observer. "I look forward to working with the real estate community to spur the development, in all five boroughs, of real affordable housing, mixed-income neighborhoods, sustainable and vibrant density, and new spaces for small and new businesses to grow and thrive."
Mr. Lhota concurs with his rival on the need for low- and moderate-income housing and has proposed an incentive program that would compel developers to devote 20 to 30 percent of their units to those citizens. He has also emphasized the use of surplus property to alleviate the affordable housing crisis, singling out MTA land and shuttered post offices as property ripe for affordable development. Like Mr. de Blasio, he's a proponent of rezoning but is on the record saying the city has "saturated the market" and recently rezoned areas should be allowed to stabilize before new districts enter the process.
On the subject of the Bloomberg-approved leasing of New York City Housing Authority land to private landlords, Mr. Lhota's comments paint him as slightly more sympathetic than Mr. de Blasio. The former MTA chair assents to the plan, so long as it pertains to true surplus land rather than amenities such as parking lots and playgrounds.
Breaking away from pragmatic legislative issues and zoning codes, I asked Mr. de Blasio if he thought the past decade's rampant upzoning and luxury boom had fundamentally altered the charms, quirks and grit of remade neighborhoods, particularly when it comes to retail tenants.
"The concerns of these small neighborhood businesses are real," he said. Without going into specifics, Mr. de Blasio added that he had "a comprehensive plan to assist local businesses across New York and would work closely with the small businesses community to help them grow and thrive."
Expanding on that theme, he referred to the dramatic evolution of Williamsburg by the East River. "The development of the Williamsburg waterfront taught us that developers need to be held responsible for promised affordable housing in projects citywide.  We need to ensure that new large-scale residential development includes a substantial component of affordable housing, and that these places to live are actually delivered."
Those qualms asides, Mr. de Blasio said he supported the Seward Park Urban Renewal Area project. He seemed to offer a more qualified endorsement of  the contentious Greenpoint Landing development in Brooklyn.
Mr. Lhota's campaign did not return repeated requests for comment.
Despite their (perhaps surprising) agreements on zoning, affordable housing and a reformed tax system, the widely perceived philosophical chasm between the Democrat and his Republican underdog has had repercussions within the industry when it comes to the money trail.
While real estate owners (and brokers and agents) are frustratingly loath to go on record as supporting a single candidate, campaign finance analyses show Mr. Lhota with the edge when it comes to big-business support. Figures released late last month revealed that, in the week after the Sept. 10 primary elections, Mr. Lhota received $20,600 from donors working in real estate to Mr. de Blasio's $3,700.
Nearly 35 percent of the $144,000 Mr. Lhota's campaign received in that same period came from people working in finance, banking, insurance and real estate. Just six percent of Mr. de Blasio's $147,000 came from contributors in those industries.
Granted, those numbers are from a brief period in the mayor's race that immediately followed primary results that, on the Democrat side, upended the ambitions of City Council Speaker Christine Quinn. Ms. Quinn suffered a long late-summer slide in the polls, but throughout the collapse of her campaign she maintained a healthy lead in contributions from the real estate sector.
As of Sept. 2, The Times reported that Ms. Quinn had collected at least $716,700 from industry players compared to $215,300 for Mr. de Blasio, whose total also trailed those of Anthony Weiner ($643,550) and Bill Thompson ($299,000). The fear that a Quinn administration would be a facsimile of the Bloomberg era helped sink her campaign, but they undoubtedly buoyed support for her among real estate professionals.
On the upside, Mr. de Blasio's paltry financial backing relative to his now-vanquished Democrat rivals still dwarfed Mr. Lhota's haul of $118,500 from the industry at that time.
Among Mr. de Blasio's real estate backers is Robert Sanna, executive vice president at Forest City, who has gathered more than $13,000 for his campaign. Executives from Toll Brothers, Extell Development and Silverstein Properties have also voted for the purportedly staunch liberal with their wallets.
Should Mr. de Blasio wish to reverse his foe's surge in real estate world support, he may wish to back off statements like the one he made in July when he said,  "Last time I checked, it wasn't the real estate industry's town, and we were just living in it."
And both candidates would do well to temper criticism of Mayor Bloomberg. As evidenced by polls and Ms. Quinn's defeat, the average New Yorker is ready for a housecleaning. Yet building landlords are reluctant to say "good-bye."
"As someone who makes a living here, I'd give [Mayor Bloomberg] an A+," one chief executive said when asked to evaluate City Hall over the past 12 years. "I love him."
Then again, Messrs. de Blasio and Lhota can take heart in the seemingly inviolable success of the real estate industry even as they publicly take it to task.
"Having lived through probably seven or eight mayors in this city in the past 42 years, it is unlikely that at the level of sophistication and economic success we're in that things will crumble," a major owner said. "No mayor will ruin this city."