A Man About Midtown South: William Macklowe on the Tech Influx
---
---
William Macklowe of William Macklowe Company never misses a daily breakfast meeting with his 6-year-old daughter. Her life-size headshot hung high next to the desk in Mr. Macklowe's well lit corner office last week when he chatted with The Commercial Observer about his other baby, 386 Park Avenue South, the rest of Midtown South, its exorbitant rents, his familial obligations—and how they changed with the break from his father Harry Macklowe's firm in 2010. "I just wanted to invest differently, and at the end of the day we wanted different companies," Mr. Macklowe said. "We're focused now on more creative, different types of real estate, [not] Midtown, Class A glass and steal." That's evident in Mr. Macklowe's venture into Midtown South, most recently at 386, purchased one year ago for $111.5 million and where MoPub (owned by Twitter), Profero, Impact Republic and Blink Fitness have all signed leases since April. Mr. Macklowe wears jeans and a button-down shirt. It looks like casual Friday, but it's not. Executives at Midtown South companies "don't want to meet with someone in a suit," he said.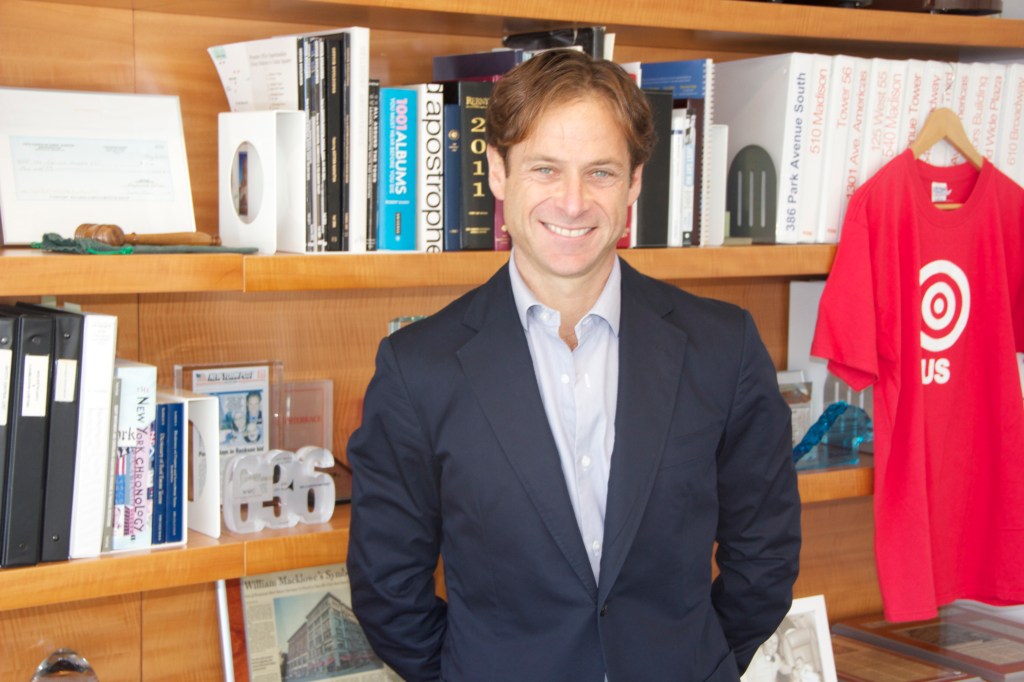 How did you approach the recap of 386 Park Avenue South?
Before we got to the prebuilds, we had to make the building appealing to the younger generation—the younger tech, new media, creative tenancy that's out there. The building in its preexisting, legacy form at acquisition was not it. The building was nice, predecessor ownership had done a nice job, but they didn't go all the way, so we decided to really tackle it the right way. We brought the entrance out to the street line; we created a new facade at the base of the building, changing the color and changing the image of the building, created a double-width piece of the lobby, brought in a great desk and a really terrific aesthetic environment. When you walk in, you say, "Wow, this feels new, this feels modern, this feels creative."
We're also doing full elevator modernizations, all new mechanical systems on each floor, tenant-controlled AC by their hand 24/7. And we're getting the building to a full LEED certification. When you have the asset to give to the tenant in an appealing form, the next step is to give them the office space. We said that if we could de-risk the construction for tenants it would really accelerate both absorption and rental achievement. So at acquisition we prebuilt three floors right out of the gate, and sure enough they rented right away.
What lessons did you learn about Midtown South from your work at 636 Avenue of the Americas, which you recapitalized and still manage?
It helped to focus our interest in that submarket. We learned a lot about what appeals to tenants in that market, how to create space and how to target it toward the tenants who are driving demand in that sector. We had a lot of fun with 636. It was not a huge building, but there were a lot of complexities to the deal.
We built on top of the roof, we created a penthouse, with a big glass pop-up, there. We were in a landmarked district; we had air rights. Our building wasn't landmarked, but we still had to go through landmarks. It was everything—windows, elevators, facade, new lobby full mechanical systems, variance courtesy of landmarks to build on the roof [and] even just to remove the fire escape from the building. [We created] a new entrance, making the lobby double-wide, creating a great marquee and really sort of putting our print on the building.
Can you talk about the importance of the prebuilt program at 386 Park Avenue South? 
The concept of the prebuilt has been around forever, but I think it's really manifested itself more in a sort of 2,000- to 5,000-square-foot size, so we decided to take that concept but apply it to full floors. Our typical floor plate at 386 is about 13,000 and change, so we said, "Hey let's just build the whole thing." I think we have enough of an understanding, from 20 or 25 years of building office space, on how to deliver that product to that market, and, again, there were certainly lessons learned from 636.
What's happening on the roof? 
We're creating a 3,000-square-foot roof terrace, and that will be in conjunction with a tenant who rents the 20th floor. Light and views are spectacular. Starting around 10:30 or 11:00 in the morning, you get the sun coming over, and it goes all day long for a great sunset. You'll have a huge terrace to the south, a big terrace to the north and this great glass box that will sit in the middle.