The Remaking of Astor Place Is Now Underway
---
---
Construction crews have begun to remake the once-scruffy Astor Place in the East Village about five years after plans were introduced.
Once a broken punk boulevard, until recently a fake I.D. production center and, now, the home of Edward Minskoff's (widely derided) 51 Astor Place office building, Curbed noted this week that signs went up in the area alerting passersby to the imminent overhaul.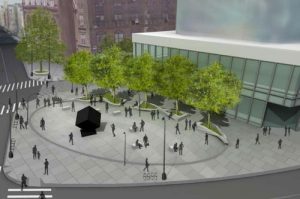 The Department of Design and Construction expects the "reconstruction of Astor Place area" to unfurl over two years. The four-phase project includes the enlargement of plazas by the Astor Place subway station (and its above-ground Alamo), extended sidewalks and a new, tree-studded, 8,000-square-foot Village Plaza to ease congestion. The miniscule Cooper Park will also get a touch-up.
EV Grieve notes that bike racks have been cleared to make way for the renovations.
Last month, a Twitter account (@51deathstar) emerged that lampooned the 430,000-square-foot spec tower  (Bio: "Destroyer of Neighborhoods. Unloved. Empty inside") for its struggle to attract tenants.