The Importance of Tourism
---
---
One of the more notable aspects of the current economic recovery has been the strength of tourism and related industries.
In 2012, New York played host to a record 52 million tourists—11 million from abroad and 41 million from the U.S.—so we had approximately 1 million people visiting the city every week.
In 2002, New York saw 35.3 million visitors, meaning that tourist visits have increased nearly 50 percent in the past decade. Tourism has grown into one of the most important industries in New York City. Since employment began to recover in November 2009, the city has added roughly 285,000 jobs, and 68,500 of those jobs have been in the leisure and hospitality sector, accounting for almost a quarter of all the new jobs in the city over the past four years—this from an industry that accounts for less than 10 percent of total employment.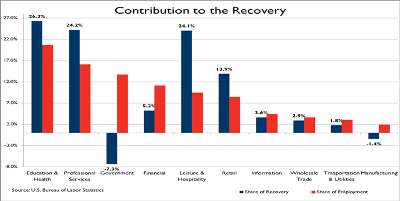 Add in the 40,000 retail jobs that have been added since the recovery began, at least part of which is tourism driven, and this industry has been one of the key contributors to the economic recovery. In fact, without the boost from tourism, the recovery would have been far less vibrant.
While tourism may not directly impact the commercial office market, it plays an important role in the city and has secondary effects. Companies that cater to the tourist trade do occupy office space. Many of our signature buildings from the Empire State Building to 30 Rockefeller Center to the about-to-be completed 1 World Trade Center are major tourist attractions. And tourists remain fascinated with the architecture and size of New York City office buildings. Who hasn't seen a tourist take out a camera to snap a photo of the towers along Park Avenue or Avenue of the Americas?
In his book Modern New York: The Life and Economics of A City, Greg David points out that tourism has replaced manufacturing in the city's economy over the past 40 or so years. "It generates middle-class jobs. It employs immigrants and unskilled workers and speeds them up the economic and social ladder far better than factory work. … Its importance is too little appreciated by most New Yorkers."