TD Bank to Replace Shuttered Greenwich Village Barnes & Noble
---
---
A former Greenwich Village branch of the beleaguered book chain Barnes & Noble is set to become a TD Bank, it was confirmed this week.
Rumors of the bank's arrival began circulating among Villagers last week, nine months after the 396 Avenue of the Americas Barnes & Noble shuttered. The bookstore was pushed out of the prominent, highly-trafficked corner spot by, in the words of assistant manager Donald Kemp, "a HUGE rent hike."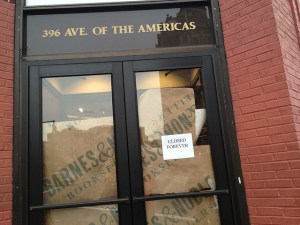 "My little store on the corner of 6th ave and 8th St was a special place," a commenter claiming to be Mr. Kemp wrote on the website Showbiz 411. "It was an old strange place with nook and crannies that we tried to fill with honor." That comment hammered home the dramatic reversal of fortune for Barnes & Noble, which for a time was viewed as an enemy of independents bookshops but ultimately suffered at the fate of internet giants like Amazon.
Meanwhile, TD Bank remains on the upswing. It's reportedly moving into the old Mars Bar space in the East Village and also taking over the old Zarin Fabric spot on Allen Street. DNA Info reported that the new bank branch will open in 2015.