Some Needed Perspective on Sluggish Leasing
---
---
The Manhattan office market has been sluggish over the past several months.
While leasing volumes have been above average, vacancy rates have increased in all three of the major markets that make up Manhattan. In August, the Midtown vacancy rate was 11.2 percent up from 9.4 percent at year-end 2012, the Midtown South vacancy rate had increased to 7.3 percent from 7.1 percent at year end, and the Downtown vacancy rate had jumped from 8.8 percent to 11.3 percent.
As a result, the Manhattan vacancy rate in August was 10.6 percent, compared with 9.4 percent at the end of 2012. Part of the reason for this increase has been the completion of roughly 1.5 million square feet of new construction in Midtown and Midtown South, but it has also been a result of slower employment growth. While the local economy has created a large number of jobs, there hasn't been as much growth in the industries that tend to use offices. Total employment in New York City has increased by roughly 50,000 jobs since last December, but employment in the main office-using industries (financial services, professional and business services and information) was only 300 jobs higher in August than it was last December.
While office market conditions have not been great in recent months, it's important to keep things in perspective. At 10.6 percent, the vacancy rate in Manhattan is well below the national average for central business districts (CBDs) of 13.4 percent, to say nothing of the national suburban vacancy rate of 17.4 percent. In fact, Manhattan has the fifth lowest vacancy rate in the nation among the 22 CBDs in the U.S. tracked by Cushman & Wakefield with at least 20 million square feet of office space. The three markets that make up the Manhattan market are all in the top 10 lowest vacancy rates in the U.S. In addition, rents in New York are still among the highest in the nation. As of August, average asking rents in Manhattan were $61.95 per square foot (psf) and ranged from a low of $45.88 psf Downtown to $67.99 psf in Midtown. As of the end of the second quarter, only two other CBDs had asking rents above $50 psf: San Francisco ($53.38 psf) and Washington, D.C. ($50.41 psf).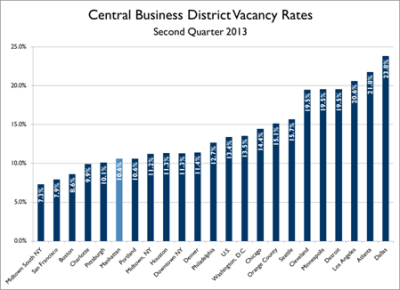 So while market conditions in Manhattan may not be improving right now, this market is still, by just about any measure of real estate performance, one of the healthiest in the nation. It's good to keep that in mind as we all cope with the daily challenges of the Manhattan office market.