PlayLab and Family Design Team Makes a Splash With Floating + POOL
---
---
Chief among Mayor Michael Bloomberg's signature accomplishments is the rezoning since 2001 of 40 percent of the city.
And while that staggering figure touched upon almost every pocket of New York, it was perhaps most pronounced in waterfront neighborhoods that flipped from industrial to commercial zoning. That paved the way for high-rise mixed-use towers in previously squat outer-borough districts of Williamsburg and Long Island City.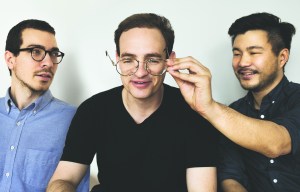 The sudden rediscovery of New York's post-industrial waterways even led to controversial development plans for Gowanus shortly after its namesake canal became a Superfund site.
But while the construction boom brought condos, Fairways, flea markets, boutique hotels and esplanades to local riverbanks, it did little (aside from new ferries) to alter the age-old perception of the rivers themselves—namely, as waterways best suited to swimmers wearing either hazmat suits or concrete shoes.
Archie Lee Coates IV and Jeffrey Franklin of art and design company PlayLab, with their collaborator Dong-Ping Wong of architecture firm Family, aim to change that with + POOL, the floating pool project that has been generating serious heat among New York's creative set and urban planning enthusiasts since the trio unveiled it in 2010.
"The public and press reactions were so big that we were able to actually pull together a pretty solid engineering and design team," Mr. Wong said when I visited him and Mr. Franklin in their Perry Street studio. (Mr. Coates joined by telephone.)
The 9,000-square-foot, estimated $15 million + POOL would in fact combine four smaller pools into one giant, bobbing aquatic cross. It would filter more than 500,000 gallons of river water per day to make it safe for leisurely dips and, perhaps, vigorous open-air lap swims. It would reclaim and reinvigorate another patch of the New York waterfront, although the designers aren't sure where it would end up.
And in another trendy aspect of the endeavor, it would be partly financed through two successful Kickstarter campaigns (so far) that have raised roughly $300,000 well before the pool has received any bureaucratic approvals from the city.
Messrs. Coates, Franklin and Wong's inspiration for + POOL came from the quarterly bane of many New Yorkers' existences: a hot, sticky summer during which the city's rivers were so tauntingly close yet so scarily out of environmentally sound reach. Back when the plan hatched in the summer of 2010, local politicians had just announced plans for a $55 million overhaul of Brooklyn Bridge Park that would include an ice rink, rooftop tennis courts and a permanent floating pool. At the time, Bushwick dumpster pools were the darlings of trend pieces and tattooed freelancers.
+ POOL had another, more mature local precedent. On June 27, 2008, Mr. Bloomberg got wet as he christened the Floating Pool Lady in the Bronx. That movable, 82-foot-long watering hole was a gift from the Neptune Foundation. And although the repurposed barge made waves, it was filled with chlorinated water. It was on the East River, but not quite of it. Popular floating pools in the Copenhangen harbor and the Spree River in Berlin (Badeschiff, which uses city water) provided outside encouragement.
The ambitious intent of + POOL to dunk future visitors into actual, albeit expertly treated, East or Hudson River water seemed to strike even the designers as a lark. "Huh, this thing might actually happen," one of @pluspoolny's early tweets in 2010 read. From there, the project got down in the quite literal muck of making attention-grabbing renderings a reality: "We got very good at incubating poop," the team said in a 2011 update detailing meetings with "geotechnical solutions" company Gunderboom and researchers from the Lamont-Doherty Earth Observatory at Columbia.
While early deliberations proceeded in 2011, the design trio launched a Kickstarter campaign that swiftly exceeded its $25,000 crowd-funding goal. Earlier this year, another Kickstarter round met a $250,000 goal by promising donors a piece of the finished product in the form of tiles inscribed with donor names. Another perk of chipping in was the chance to be among the first to cannonball into the water in a soft opening available only to donors.
"We were cautiously optimistic," Mr. Franklin said of the quarter-million-dollar high bar. "Kickstarter involves a lot of peaks toward the beginning and plateaus after that. So we were nervous toward the end. But in the end, I think it really showed what's possible, not only for us but for Kickstarter, especially because this isn't a product but something for the public."
In addition to its crucial financial benefits, fruitful crowd-funding also boosts morale and offers publicity that more than pays for itself. The long slog through official channels and city politicians whose approval the project needs is less thrilling. Yet Mr. Coates was surprisingly sanguine about cutting through the red tape.
"There hasn't been any cynicism, to be honest," he said. "They've called it a no-brainer."
Mr. Wong said that the approval process mostly "comes down to codes and regulations. And as you can imagine, a lot of officials don't want to rewrite
[code][/code]
for one specific project. This really doesn't fit into the traditional definition of anything. It's not a boat. It's not a pier. It's not a pool in a traditional sense, because we don't want to use chlorination. But it's also not a beach. And those are the two Department of Health classifications of water, basically. So a lot of the questions revolve around 'Where does this fit in?' They also want to make sure we understand the magnitude of what we're taking on. We don't necessarily come across as New York developers."