Mark Messier Named CEO of Kingsbridge Sports Facility
---
---
NHL Hall-of-Famer Mark Messier has been named CEO of the Kingsbridge National Ice Center in the Bronx, which is set to become the world's largest ice sports facility when complete, it was announced today.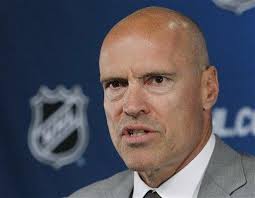 As CEO, Mr. Messier, who led the New York Rangers to a Stanley Cup in 1994, will oversee the development and operation of the facility, including free educational and sports programs for youth.
"The Kingsbridge National Ice Center will transform the Bronx into the epicenter of ice sports in the United States, while generating tremendous economic and educational benefits for the community," Mr. Messier said, in a prepared statement. "This is an opportunity to do something that will profoundly impact kids in the Bronx and all across New York City, and I will work hard to ensure it reaches its full potential."
Hockey players and ice skaters tired of playing third or fourth fiddle to the city's other premier sports rejoiced earlier this year with news that the world's largest indoor ice facility is coming to the Bronx, when Mayor Michael Bloomberg announced plans to transform the landmarked Kingsbridge Armory into the new 750,000-square-foot ice sports facility with nine year-round indoor regulation-size hockey rink.
The facility's main rink will seat 5,000 people, host national and international ice hockey tournaments, figure and speed skating competitions and ice shows. Five of the rinks will be located on the main floor and four will be constructed on two elevated platforms positioned 40 feet above the main floor.
At least two rinks will be sled hockey-compatible for people with disabilities, with plans to create a foundation to establish free after-school ice sports and academic tutoring programs for disadvantaged youth.
In addition to the ice rinks, the facility will feature a wellness center, with off-ice training fitness, rehabilitation and sports therapy programs; dressing rooms and lockers with storage for individual hockey equipment; concession space; retail space for ice sport goods; and parking for approximately 480 cars.
KNIC Partners has also agreed to create wall-to-wall "living wage" jobs for local workers; and more than 52,000 square feet of community space provided rent-free, along with $8 million to develop the space for the community, among other incentives, according to today's announcement.
The project is expected to break ground in 2014 and will have a $1.3 billion economic impact on New York City over 30 years.
During the course of his 25-year NHL career, Mr. Messier won six Stanley Cups with the Edmonton Oilers and the New York Rangers. Mr. Messier announced he would leave the Rangers front office in June.