Manganaro's on its Way Out Following $16 M. Deal
---
---
The storied Manganaro's Hero Boy will be moving out of its Westside home at 494 Ninth Avenue after the $15.75 million sale of it and an adjacent building, The Commercial Observer has learned.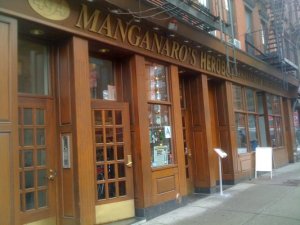 The seller of the five-story, mixed-use buildings at 484 Ninth Avenue and 492-494 Ninth Avenue, which owns the Manganaro's, will vacate that retail space, and the new owner, described only as an "opportunistic buyer," will likely redevelop the century-old properties, sources said.
The Manganaro's sub shop remained in place after a reported family spat led to the closing of the grocery store by the same name next door, which dated back to the 1890's. Though ownership later blasted the "idiot reporter" who broke the news, the grocery did eventually close, leaving the Hero Boy to satiate the appetite of the dispirited Italian-American community on its own.
The properties, nestled between Hudson Yards and Times Square, combine for 28,529 square feet, with a total of 28 residential apartments and three retail units. Roughly 16,000 square feet of unused air rights also exist on the properties, said Massey Knakal's Bob Knakal, who handled the sale of the buildings with David Kalish.
Bidders on the property were particularly drawn to the retail units and their proximity to the up-and-coming Hudson Yards redevelopment project, Mr. Knakal said.
"The interest for properties in the Hudson Yards district has exploded… and the buyers at the top of the list, in terms of bidders, all looked at the retail space very optimistically," he said.
The redevelopment occurring in and around Hudson Yards will make the area the "heart of the city" within the next two decades, as technologically advanced, green office buildings and accompanying residential development, schools and the like flood the market, he said.
"The overwhelming majority will either be redeveloped or demolished, so you'll have brand new product that will dominate this area," Mr. Knakal said. "People are going to be really excited about living there."
The property at 484 Ninth Avenue consists of 12 residential apartments, with eight full market units, four rent stabilized, and two retail units. The building at 492-494 Ninth Avenue holds 16 residential units, with six market rate units, 10 rent stabilized, and one retail unit.
The centerpiece of the broader Hudson Yards development project is Related Companies' Hudson Yards, a 26-acre site will include more than 6 million square feet of commercial space, 750,000 square feet of retail space, about 5,000 residences, a new school, and a luxury hotel.