Having Faster Internet Will Make You Richer, Study Says
---
---
According to a recent study, having faster broadband speeds doesn't just mean you can watch more YouTube videos per minute—it also might mean you can make more money.
The study, conducted by Ericsson, consulting firm Arthur D. Little and Chalmers University of Technology, states that in the U.S. (and other OECD nations), households with faster broadband connections have, on average, higher monthly incomes. More specifically, homes with broadband speeds of 8Mbps tend to rake in $120 more per month than homes with broadband speeds of 4Mbps. That's $1,440 per year.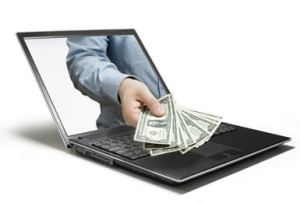 It's not the first time researchers have drawn connections between broadband access and economic prosperity. In 2011, the same three organizations determined that OECD countries that doubled their broadband speeds could expect to see a 0.3 percent GDP growth, which turns out to be a pretty hefty amount of money in the U.S., whose total GDP is currently in the $15 trillion range.
"Broadband has the power to spur economic growth by creating efficiency for society, businesses and consumers," Ericsson EVP and Head of Business Unit Networks Johan Wibergh said of the 2011 study. "It opens up possibilities for more advanced online services, smarter utility services, telecommuting and telepresence."
With such a clear connection between broadband speeds and economic growth, the researchers seem to hope that faster broadband speeds are adopted around the world—particularly in Brazil, India and China, where Internet speeds are generally slower and an increase from 0.5Mbps to 4Mbps could mean an extra $46 per month in household income, according to the study.
"The evidence is building for broadband speed as a driver of economic growth," Arthur D. Little's Martin Glaumann said. "Yet in many countries … regulatory developments are holding back the full growth potential. Regulators need to rethink and recognize high-speed broadband as a national imperative for BIC countries. Broadband gives households the means to improve skills and productivity through e-learning and business services, but also to gain access to new venues for consumption."
How about Google just gives fiber to everyone, and then we're all rich and happy?