EB-5 Funding On Rise, Long Arm of Law Watchful
---
---
It started with Gary Barnett's Gem Tower and Bruce Ratner's Atlantic Yards. When credit tightened in 2009, some of the most respected New York developers had begun turning to foreign money to finance their construction projects via the U.S. Citizenship and Immigration Services' EB-5 program. The federal program is designed to provide permanent residency to foreigners who invest at least $500,000 in job-creating projects. Of late, with the banking sector increasingly willing to finance projects but with the loan-to-cost of their loans languishing in the 60 percent to 65 percent range, EB-5 funding—for which interest rates are usually in the one-digit range—is becoming an increasingly popular alternative to costlier mezzanine financing, sources told Mortgage Observer.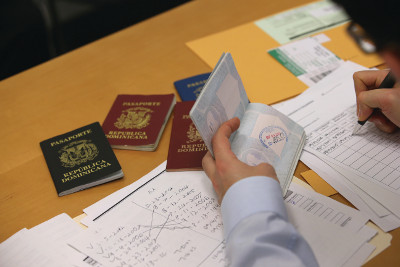 EB-5 is being explored to partially fund construction of the $950 million project 30 Park Place and the residential tower at 855 Sixth Avenue, projects from developers Larry Silverstein and Douglas Durst, respectively. Moreover, according to persistent market rumors, EB-5 will be a tool of financing for at least one of the towers of Related Companies' Hudson Yards.
With this popularity, though, comes an increased need for legal oversight, both on behalf of investors and developers looking to draw on the program and governmental agencies tasked with oversight.
On this front, 2013 didn't start well for the program, which in the last few months has seen its first major scandal. On Feb. 8, the Securities and Exchange Commission announced it had pressed charges against the developer of a hotel and conference center near Chicago's O'Hare Airport who had raised more than $150 million from more than 250 foreign investors, misleading them into believing that they would obtain profitable returns and U.S. residencies through participation in the EB-5 program.
It was the first time the SEC had pressed charges for an EB-5-related alleged fraud. Initially, the scandal caused a freeze of investments, several people with deep knowledge of the EB-5 program told Mortgage Observer.
"As a result, there has been a chill in the marketplace," Steven Polivy, the chair of the economic development practice at law firm Akerman Senterfitt, said. "It has been more difficult to get investors to sign on for projects. I have seen that the USCIS seems to have reacted by submitting more detailed requests for evidence and has been giving projects greater scrutiny than they seemed beforehand."
The Association to Invest In the USA (IIUSA), a nonprofit trade association that represents more than 100 regional centers—the entities serving as conduits for foreign investment—got involved in the trial that resulted from the SEC's charges.
"We were concerned that one example of an unfortunate situation would give the perception that this was widespread," Peter Joseph, executive director of IIUSA, said.
30 Park Place
,
855 sixth avenue
,
Advantage America New York Regional Center
,
Akerman Senterfitt LLP
,
Association to Invest in the USA
,
Atlantic Yards
,
Bruce Ratner
,
Center for Immigration Studies
,
David North
,
Douglas Durst
,
EB-5
,
EB-5 Immigrant Investor Program
,
Gary Barnett
,
Gem Tower
,
Hudson Yards
,
Julia Yong-hee Park
,
Larry Silverstein
,
Mark Edelstein
,
Michael Bailkin
,
Morrison & Foerster
,
Peter Joseph
,
Steven Polivy
,
U.S. Securities and Exchange Commission
,
Related Companies