Mumford & Sons Set to Revive Forest Hills Tennis Stadium
---
---
English folk band Mumford & Sons will take the stage for a concert at the long-defunct Forest Hills Tennis Stadium in Queens on Wednesday – the stadium's first in 16 years.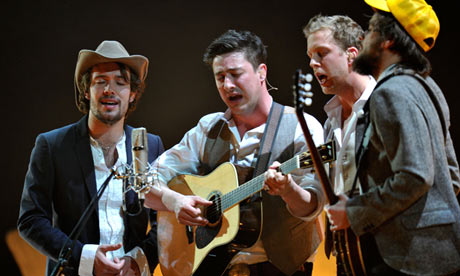 Piggybacking off of a report in the New York Times earlier this summer announcing that the stadium's owner – West Side Tennis Club – had signed a deal with a promoter to hold 19 concerts there over the next three years, the New York Daily News reported yesterday that the show will go on.
The concert hall, which opened in 1923 and was host to tennis and a long list of star musicians, fell into the shadows and abundant weeds in the late 1980's after the U.S. Open tournament moved to a larger space in nearby Flushing Meadows-Corona Park a decade earlier. A handful of shows in the '80s and '90s sought to revive the venue but left a bad impression on neighbors.
"No one cleaned up the place afterward," Mike Luba, who is promoting the latest concert series, told the Daily News. "Fans were p—ing all over people's lawns."
The club's president, Roland Meier, told the Times he hoped the concerts, which begin as the stadium turns 90, will not only help usher in a fresh start, but also finance the stadium's renovation, leading to the return of tennis and other top events.
According to the reports, Barbra Streisand, Frank Sinatra, Bob Dylan, The Rolling Stones, The Beatles, The Who, Jimi Hendrix and The Monkees were among the acts to grace the stadium's stage in the 1960's and 1970's.
"This stadium has a great history and we'd like to see classy events," Mr. Meier told the Times in June. "If we pull off the first event the right way, we can show people this is going to be well done. With every concert, more money goes into the stadium. Basically this finances the upgrading of the stadium and the club gets more money."
The club plans to move the entrance away from residents and limit the number of shows to no more than six per summer to appease neighborhood critics.
Barbra Streisand
,
Beatles
,
Bob Dylan
,
Flushing Meadows Corona Park
,
Forest Hills Tennis Stadium
,
frank sinatra
,
jimi hendrix
,
Mumford & Sons
,
Roland Meier
,
Rolling Stones
,
The Monkees
,
the rolling stones
,
The Who
,
West Side Tennis Club