Engineering Firm Relocates to Times Square
---
---
Engineering firm Simpson, Gumpertz & Heger, Inc. has signed a seven-year, 11,695 square-foot lease and relocation to 550 Seventh Avenue.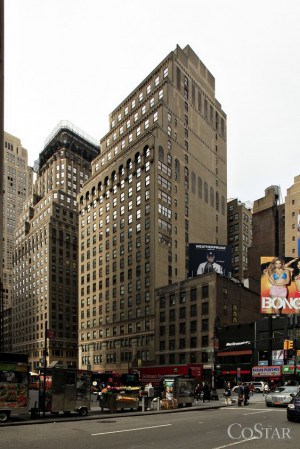 The full, 10th floor space will be used as the company's New York City headquarters after its relocation from its West 34th Street offices, where the company was leasing several floors. The new space features windows on three sides.
"The company wanted to build out a space with an open floor plan on one floor," Michael Heaner, partner of the Kaufman Organization, who represented the landlord with Grant Greenspan, told The Commercial Observer.
The building is home to lifestyle brands including Ralph Lauren, Donna Karen, Badgley Mischka and Lily Pulitzer, and the Kaufman Organization has initiated a marketing campaign to attract new lifestyle, digital and creative brands.
"The building is primarily known for high-end fashion and we've been working to play off that and get a creative mix of tenants," Mr. Heaner said. "These guys bring a nice creative element."
Asking rents for the space were $48 per-square-foot.
Simpson, Gumpertz & Heger designs, investigates, and rehabilitates structures and building enclosures, collaborating with architects, owners, and contractors. The firm also finds solutions to structural and building enclosure performance problems.
The firm has worked on Griffith Observatory in Los Angeles, the de Young Museum in San Francisco and Massachusetts Institute of Technology's Simmons Hall.
Louis Adler built the 23 story, 250,000-square-foot building in 1925. Designed by Ely Jacques Kahn, it features a concierge, 24-hour access, on-site security and management and is close to Penn Station, The Port Authority and major subway lines.
Jamie Katcher of Cushman & Wakefield represented the tenant. He declined comment.
Badgley Mischka
,
Cushman & Wakefield
,
de Young Museum
,
Donna Karen
,
Ely Jacques Kahn
,
Grant Greenspan
,
Griffith Observatory
,
Jamie Katcher
,
Kaufman Organization
,
Lily Pulitzer
,
Louis Adler
,
Massachusetts Institute of Technology
,
Michael Heaner
,
Penn Station
,
Port Authority of New York & New Jersey
,
Ralph Lauren
,
Simmons Hall
,
Simpson
,
Simpson Gumpertz & Heger