Emmes Pays $151 M. for 180 Water Street
---
---
Emmes Asset Management has purchased 180 Water Street for $151 million, where the firm said it may reposition the asset.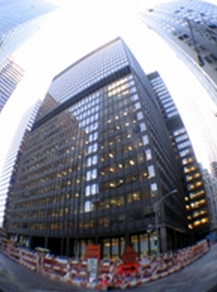 The city's Human Resources Administration plans to move out of the 24-story, 453,857-square-foot office tower and into 4 World Trade Center in 2015.
"We're trying to evaluate the property's highest and best use," Richard Coles, a managing principal at Emmes, told Real Estate Weekly. "There are a number of possibilities, ranging from educational to hotel to residential, in addition to office."
Late last year Emmes sold 1420 Broadway and 246-248 West 125th Street for $20.3 million; and a two-story retail building occupied by Citibank at 1042 Madison Avenue for $36 million, city records show.
The group, which manages $1.3 billion in assets, also supplied bridge financing for the residential conversion of AIG's former headquarters at 70 Pine Street.
The sellers of 180 Water Street, Leon and Alfons Melohn, bought the ground and the lease for an undisclosed sum in 1995.
Moshe Majeski of the Moshe Group facilitated the most recent sale of the building in an off-market transaction.