Treetop Development Pays $13.6 M. for Harlem Mixed-Use Property
---
---
Treetop Development has purchased a 56-unit, 46,200-square-foot mixed-use building at 17-27 West 125th Street for $13.6 million, where it plans to reposition the building's retail and attract Harlem's new wave of young professionals and students, The Commercial Observer has learned.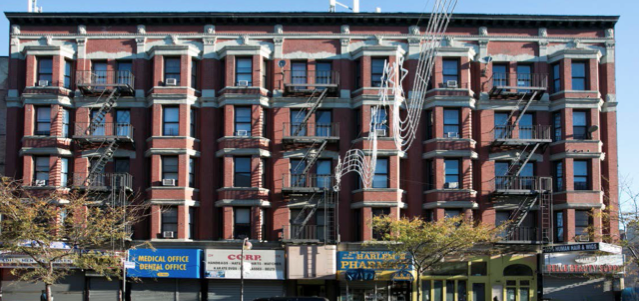 The company plans to perform one of its signature renovations on the asset, including upgrades to the seven retail storefronts and 49 apartments, a new boiler system, elevator, roof and façade improvements.
"This is located in a prime position, off of 5th Avenue and right next to the subway," said Adam Merlmelstein, a managing founder at Treetop Development. "There's a significant amount of retail space and at the same time we see a lot of upside in the future of the apartment units."
Two of the seven retail spaces are currently vacant, Mr. Mermelstein said, adding that he hopes to attract a national retailer to at least on of the spaces, which would help to transform the property into a retail destination amid a rapidly gentrifying neighborhood.
High-end upgrades to residential units, meanwhile, with new hardwood flooring, stainless steel appliances and the like will aim to attract young professionals and students.
The property features 40 one-bedroom units, eight two-bedroom units and one super's unit, with a dentist offices, a pharmacy and beauty supply store among the retail tenants.
"There has been little to no renovation to the building for close to 25 years, which gives the buyer tremendous opportunity," said Scott Edelstein of Marcus & Millichap, who arranged the sale on behalf of the private owner with Peter Von Der Ahe and Seth Glasser.
"By pricing the asset competitively, we were able to create a bidding war," Mr. Glasser added.
The building has access to various modes of transportation and sits in the heart of one Manhattan's most rapidly gentrifying neighborhoods, and brokers said comparable properties in adjacent neighborhoods are selling for a much greater premium.
"Sandwiched between the 4,5,6,1 and 2 subway lines and the MTA Metro North Harlem stop, this is an ideal location for both multifamily and retail redevelopment," said Mr. Von Der Ahe.
Harlem is said to be undergoing a second renaissance despite the economic downslide from the 1950's to 1980's, as residential and retail development booms. The Apollo Theater, located on 125th Street, continues to be the hub of Harlem's entertainment district, centered in between an eclectic mix of retail and dining options with Southern, Caribbean, Latino, and African influences.
Roughly 500 of Treetop Development's 950 residential units located in Manhattan are in Harlem. The firm also recently purchased a 472 unit building, Saxon Hall, in Rego Park, Queens.