Rise of the Machines: Robot Garage Will Be North America's Largest
---
---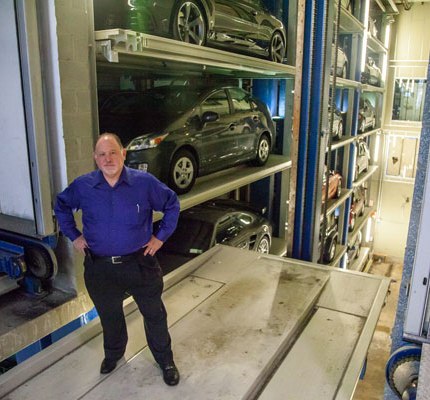 Perry Finkelman at times sounds like he's describing something from a science-fiction movie. The CEO of Automotion Parking Systems talks of designing machines, manipulating machines—even machines that send text messages. It's not Rise of the Machines he speaks of … not exactly. But the technology that will control the 697-car underground parking garage that Automation plans to build beneath Willoughby Square Park in Downtown Brooklyn very much relies on them. A human driver parks the car on a pallet, and then computer-operated machines take over: an automated touch screen provides a simple set of directions, and lasers make sure the vehicle is positioned correctly, running a series of safety checks, before computer-programmed robotics swirl the vehicle to a snug underground resting place.
The city tapped Automotion and its partners to build the $35 million garage following a grueling three-year RFP process. American Development Group, Mr. Finkelman's other company, will serve as project manager of the parking lot and the roughly $5 million dollar park above it, which is slated to become the epicenter of a $2.5 billion mixed-use cultural center. Mr. Finkelman shared details with The Commercial Observer on what he claims will be the largest automated parking garage of its kind in North America, the technology behind it, his push to make it even greener and the park that will sit above it.   
The Commercial Observer: What gave you the edge on the RFP? 
Mr. Finkelman: When this RFP came up, everyone was looking at conventional parking to go underground. There's just no way that it could be properly designed and handle what their target number was, of almost 700 vehicles. We were able to get the exact amount they were looking for in less space—almost three times the amount of parking in the space that was proposed by other vendors—so there was a significant advantage to how we looked at it. I don't know the exact numbers, but the whispered number of the next successful bidder was somewhere between $20 million and $30 million more.
Who designed this, and where did the concept come from? 
The designer is Solomon Rosenzweig with SRPE, and they are the structural engineers for the project. I was out to dinner with our structural engineers, and we were talking about how to go about designing this, and what I wanted to do was create some sort of trapezoid design so we could deal with the construction costs—not underpinning as much and using the natural contours of the soil to hold back the soil pressures, as a tool to be competitive. That genesis of those drawings, which were actually on the back of a napkin, is what we ended up designing.
This is a technology and construction methodology that has not been used in the U.S. but has been used in Europe—a whole concept of making something extremely environmentally friendly. We figured out that we would be saving 17,000 gallons of gas a year just from [not] driving around the ramps in a conventional garage. That's a staggering amount of money and fuel—and a waste that we won't have.
Why aren't other parking companies catching on? 
Quite frankly, I don't know why. It's available to them—Automotion sells to everybody. So it's available. Automotion would be selling to American Development or anyone else, even on multiple bidders—but no one did approach Automotion.
Do other firms have this technology? 
We're the only ones with a track record and a history of reliability, especially in transient parking systems. That's not to say there aren't other companies, but they are not operating to any type of degree that can show reliability or longevity of the machine. Some of them are in conceptual stages. There are a few other firms that purport to have systems but they don't have any operating history. Why would you spend money on technology that is not proven? You have developers looking at price and not dealing with safety issues or reliability, thinking that all automated parking systems are the same. They're not.
american development group
,
anti-terrorism
,
Automotion Parking Systems
,
Downtown Brooklyn
,
New York City Economic Development Corporation
,
parking garage
,
perry finkelman
,
Rise of the Machines
,
Rockefeller Center
,
Smiths Detection
,
Solomon Rosenzweig
,
Willoughby Square Park