Regus Adapts as Work Habits Change
---
---
As co-working and temporary space increase in popularity for both start-ups and established businesses, office provider Regus has expanded its available options by opening two street-level business lounges offering short-term access over the past six months, at 747 Third Avenue and 275 Seventh Avenue.
"We are meeting the demand of the increase of people using drop in access," Grant Greenberg, spokesman, told The Commercial Observer.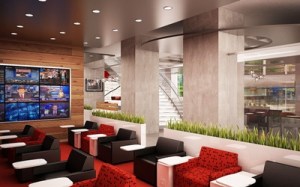 Though the company has offered similar options in the past, those spaces have typically existed on higher floors, decreasing visibility and ease of access. Now, by offering street-level work space, Regus is able to offer an alternative to freelancers and business travelers who might otherwise use wireless connectivity at a coffee shop or airport lounge.
"It's nice to be able to walk in and not have to go through security," Mr. Greenberg noted of the street-level spaces, where prices start at $30 per month.
At 747 Third Avenue, Regus can cater to the evolution of a business, offering a number of different working styles. The East Midtown location, in walking distance of Grand Central Terminal, offers a walk-in street-level business lounge, co-working space on the second floor and traditional office space on the third.
"747 [Third Avenue] sums up what an ideal space would look like, easy drop in, an open floor environment and access to private offices," Mr. Greenberg said.
As previously reported by The Commercial Observer, demand for prebuilt space and drop-in access has been increasing and Regus has been quick to tap into the growing market. Just this year, the office suite provider has secured new space at 31 Penn Plaza, 101 Sixth Avenue and Brookfield Place.
Though Regus is continually looking for additional locations, as evidenced by the company's aggressive expansion in New York, Mr. Greenberg would not disclose if additional street-level working spaces would be added in the city. Elsewhere, a street-level business lounge has opened in London and another in Colorado is in the works.
"Work habits themselves are changing," Mr. Greenberg noted. "It used to be everyone had their own office, now people prefer open, collaborative environments, it's about meeting that need."