Park Slope Continues to Soar Post-Barclays With $15 Million Sale
---
---
In the latest indication of Park Slope and Downtown Brooklyn's emergence as commercial real estate powerhouses, 76-82 St. Mark's Avenue (at Flatbush and Sixth Avenues) has sold for $15 million.
The Brooklyn retail real estate brokerage TerraCRG announced the close of the sale today. The 23,900-square-foot property (with 24,000 square feet of air rights), which is fully occupied, holds 15 apartment and three commercial spaces.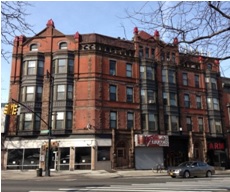 "The sale of 76-82 St. Marks Avenue is another great example of the rapid transformation of the retail corridors surrounding the Barclays Center," TerraCRG's Adam J. Hess, who closed the deal with colleagues Ofer Cohen and Geoff Bailey, said in a prepared statement. "We have now sold four buildings within a three block radius of the Arena at an average of $653 per square foot, prices fed by retail rents in the area increasing threefold since the arena opened."
This sale price works out to $627 a foot, and continues the transformation of Park Slope–for years a sought after residential neighborhood–into one rife with what with Mr. Cohen called "institutional level assets."
The brokers could not be reached for further comment.