Manhattan Real Estate's All-Star Lineup
---
---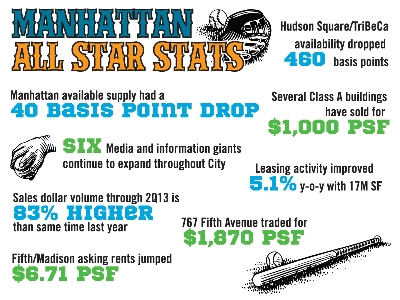 As we get into the dog days of summer, and as the city gets ready to host the All-Star Game, we have seen several all-star performances from the office market already in 2013.
Several Class A buildings have sold for over $1,000 per square foot; batting cleanup, 767 Fifth Avenue traded for $1,870 per square foot, with the sale of 30 Rockefeller Plaza and 550 Madison Avenue not too far behind at $1,382 and $1,290, respectively. The dollar volume through the first half of 2013 is 83 percent higher than where we were this time last year.
Media and information giants continue to expand throughout Manhattan like baseball players in the '90s. In 2013, Yahoo and Sirius Satellite Radio leased more space in Midtown, and LinkedIn, Shutterstock, Facebook and Google expanded in Midtown South.
The development of Hudson Yards is similar to the development of a baseball player's career. In 2013, it had its major-league moment, with deals being signed including those with Coach, L'Oréal and SAP, and the tentative major free agent Time Warner.
Through the midway point of the year, leasing activity improved 5.1 percent year-over-year, with 17.1 million square feet leased. So far, we have seen 26 transactions over 100,000 square feet. Of these transactions, 17 have been new deals or tenants expanding on their current space.
Unlike a batting average, the market wants to see a decrease in the availability rate—Manhattan as a whole has seen it drop by 40 basis points. The submarkets leading the way, as well as showing significant increases in asking rents, are Fifth/Madison and Hudson Square/Tribeca. Fifth/Madison has seen its availability rate drop by 200 basis points and rents rise by $6.71 per square foot. Hudson Square/Tribeca rates have fallen by 460 basis points and rents have risen by a mirrored $4.60 per square foot.
With all of these standout performances in the first half of 2013, hopefully no submarkets tweak a hamstring and get put on the disabled list, and they will all continue into the second half of the year.
30 Rockefeller plaza
,
550 Madison Avenue
,
767 Fifth Avenue
,
Cassidy Turley
,
coach
,
Facebook
,
Google
,
LinkedIn
,
L'Oreal
,
Richard Persichetti
,
SAP
,
Shutterstock
,
Sirius Satellite Radio
,
stat of the week
,
Time Warner
,
Yahoo!