Going, Going, but not Gone Yet: No Related Bid for Sotheby's Headquarters
---
---
Related Companies has not bid on Sotheby's Upper East Side headquarters as part of a deal to bring the international auction house to Hudson Yards, a source familiar with the matter told The Commercial Observer.
Earlier reports suggested Related was eyeing a bid for the property at 1334 York Avenue. The reported deal, a 1031 tax-free exchange, would see Sotheby's buy or lease a significant portion of the 750,000-square-foot retail podium connecting the first two Hudson Yards office towers, according to a story yesterday in the New York Post.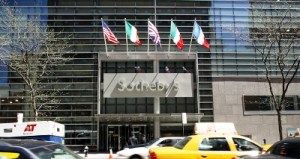 Though conversations have been held about potentially bringing Sotheby's to Hudson Yards as a tenant, discussions are at an early stage and do not involve a bid for the auction house's property, the source familiar noted. Another source said Sotheby's may not be the only party interested in the space at Hudson Yards.
Last month it was revealed Sotheby's was exploring the sale of its 500,000-square-foot property, with Douglas Harmon and Adam Spies of Eastdil Secured marketing the building. Peter Riguardi and Alexander Chudnoff of Jones Lang LaSalle are spearheading the search for potential new locations for Sotheby's.
"We continue to examine our business needs and real estate options to see what best suits Sotheby's," Andrew Gully, spokesman at Sotheby's, told The Commercial Observer, declining to comment on the rumored bid from Related.
Sotheby's acquired 1334 York Avenue, which sits between 71st and 72nd Streets, from RFR Realty for $370 million in 2009, after having leased the building since 1979.
Eastdil Secured and Jones Lang LaSalle did not return requests for comment. A representative for Related declined to comment.
1334 York Avenue
,
Adam Spies
,
Alexander Chudnoff
,
Andrew Gully
,
Douglas Harmon
,
Eastdil Secured
,
Hudson Yards
,
Jones Lang LaSalle
,
Peter Riguardi
,
Related Companies
,
RFR Realty
,
Sotheby's