Equinox Inks Battery Park City Location
---
---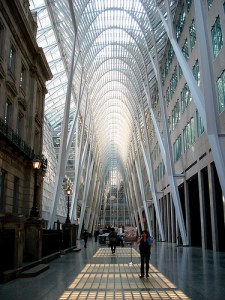 Equinox is buffing up its Lower Manhattan portfolio with the addition of a fitness center at 225 Liberty Street in Battery Park City.
The upscale fitness center will open a 35,000-square-foot, state-of-the-art facility at Brookfield Place, Brookfield Office Property's monstrous eight-million-square-foot urban campus.
"Equinox, voted best gym in America by Fitness Magazine, complements the unique retail and dining experience at Brookfield Place," said Ed Hogan, Brookfield's national director of retail leasing, in a prepared statement. "Brookfield Place will be the heart of the newest shopping neighborhood in Downtown Manhattan. We are delighted to welcome a world-class fitness center that will attract downtown's affluent residents and office workers."
The lease comes in light of the greater $250 million dollar renovation of Brookfield Place, set to be completed in 2014. The revitalization aims to establish a distinctive and curated luxury retail and dining center. Equinox will join Hermes, Burberry, and Michael Kors.
The McDevitt Company and Mr. Hogan represented Brookfield Office Property in the transaction. Equinox's director of real estate John Mears negotiated on behalf of the company.
The gym will mark Equinox's fourth fitness center below Houston Street, with the other three located in Soho, Tribeca, and the Financial District, aptly targeting the affluent body-conscious crowd. The growth is coupled with the expansion of Blink Fitness, the simplified cardio-focused subsidiary of Equinox.
Blink Fitness, taking stake in Noho, has opened gyms of approximately 16,000 square feet throughout the city, including Feil Organization's Concourse Plaza in the Bronx and recently in Chelsea at 260 West 26th Street.