Developer Pays $15 M. for McDonald's Lot in Park Slope
---
---
No more $1 coffee (for a limited time only) and chicken nuggets on the corner of First and First in Park Slope.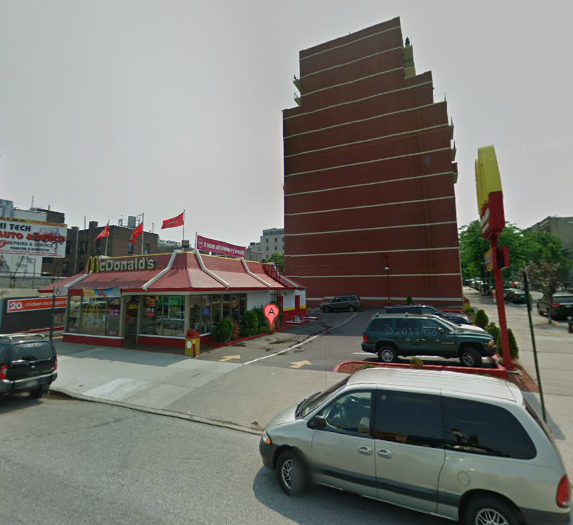 A joint venture between Silverstone Property Group and Adam America Real Estate has purchased the lot at 275 Fourth Avenue, currently home to a McDonald's, for $14.8 million, with plans to develop a high-end rental building with 75 units and 6,000 square feet of ground floor retail space.
The sale represents a record price for a development site on Fourth Avenue, according to TerraCRG, the sole broker on the deal.
"The property sold for almost $3 million above the asking price and was put it in contract in just under 30 days," said Melissa DiBella, a partner at the firm, who hashed the deal out with President Ofer Cohen, Melissa DiBella, Adam Hess, Dan Marks, Peter Matheos and Mike Hernandez.
"Throughout the formal bid process, we've had 30 bids, all from very qualified developers."
The property, on the Park Slope side of the Park Slope/Gowanus Border, along 4th Avenue, is surrounded by a mix of warehouses and car repair shops – a stark contrast to the interspersed high-end residential developments and trendy shops that have sprung up in recent years. Giorgio Realty Corp's Elan, a luxury condo development next door on First Street that was built several years ago, is next door.
The property is just a couple blocks from the Gowanus Whole Foods, scheduled to rise at Third Avenue and Third Street and within reasonable proximity of the Barclay's Center and Prospect Park.
The property is also just one avenue away from 5th Avenue, one of Brooklyn's most popular retail corridors, which is lined with some of the boroughs best restaurants, boutique stores and cafes.
Rents on newly-constructed elevator buildings in Park Slope are fetching over $60 per square foot and luxury rental buildings are selling at record highs, according to TerraCRG, which noted in a statement that the Arias Park Slope, a 95-unit new construction rental building located blocks away, was purchased by Invesco in 2011 for $57.5 million.
"We are big believers in the Brooklyn market and are in the process of building 600 units in the area," said Dvir Cohen-Hoshen, managing partner at Adam America, in a statement. "We see tremendous demand for luxury rental product and are excited to take part in the reshaping of the Fourth Avenue corridor."
275 Fourth Avenue
,
Adam America Real Estate
,
Arias Park Slope
,
Barclays Center
,
Dvir Cohen Hoshen
,
Elan
,
Giorgio Realty Corp
,
McDonald's
,
Prospect Park
,
Silverstone Property Group
,
Whole Foods Market
,
Invesco Real Estate