A Secular Shift in Midtown South
---
---
No matter how you look at it, the Midtown South market is hot. The vacancy rate in Midtown South is currently 7.2 percent, making it by far the tightest major market in the nation. The only market close to Midtown South in vacancy is San Francisco, where the vacancy rate is 8.6 percent.
The technology and creative industries (including fashion, advertising and media) that inhabit this market are among the fastest-growing sectors of the national and local economy. It is the ultimate live-work-play environment where young talented professionals want to be, and the companies looking to tap in to this labor pool are strongly motivated to locate themselves in Midtown South.
It's not surprising, then, that rents are rising rapidly in Midtown South. In the second quarter of 2013, Cushman & Wakefield reported that asking rents in Midtown South reached a record $59.46 per square foot, up 20.3 percent from a year ago. At the height of the dot-com boom in 2001, rents in Midtown South never got higher than $46 per square foot. What's even more surprising is that rents in Class A properties in Midtown South reached $75.63 per square foot and for the first time surpassed Class A asking rents in Midtown ($73.63 per square foot). An important statistic to note, however, is that the Class A stock in Midtown South is very limited (only 15.6 million square feet, compared with 183 million square feet in Midtown). The addition of one brand-new building with a large block of space caused Midtown South Class A rents to jump. Despite this, the fact that Midtown South Class A rents are so high is a testament to how much this market has changed in the last decade.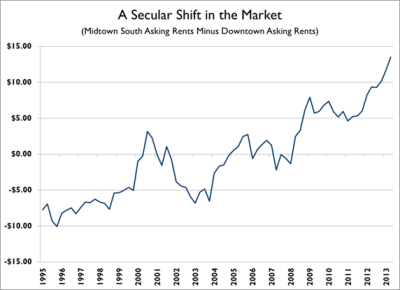 Even more telling is the change that has occurred in the relationship between the Midtown and Downtown markets. In the decade from 1995 to 2005, asking rents in Midtown South were consistently below those of the Downtown market. Midtown South was on average $4.50 per square foot cheaper, but as Midtown South became more popular, rents in that market increased more quickly. Today, Midtown South asking rents are approximately $13.50 per square foot higher than they are in Downtown.
The Downtown market will see some more expensive space hit the market later this year and in 2014, as the first of the World Trade Center towers are completed. Despite this, I would be surprised if Midtown South does not remain more expensive than Downtown. The companies that are among the fastest growing in the nation want to locate in this market and are likely to keep it tight for some time to come.