5Pointz Residential Redevelopment Inches Closer to Approval
---
---
A contentious plan to demolish 5Pointz, a revered Queens graffiti mecca, and replace it with big apartment towers came closer to reality today when Borough President Helen Marshall gave it her nod of approval.
Now that Ms. Marshall has given G&M Realty the thumbs up, the developer will present the project to the City Planning Commission and then the City Council and mayor.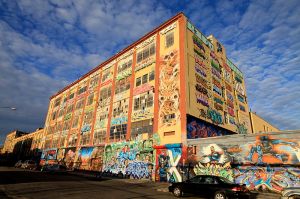 G&M has applied for a special permit to build a 47- and 41-foot tower, both in excess of current zoning laws, on the Long Island City site. The buildings will hold 1,000 rental apartments. The redevelopment has stoked opposition in and beyond LIC among those against the destruction of 5Pointz, which opened in 1993 as a legitimate graffiti canvass that discouraged illegal street art. Since then, the aerosol  art center has been tagged by an international roster of artists and become an eye-catching attraction for riders on the nearby 7 train.
To appease those critical of the plan, G&M pledged to include 75 units of affordable housing and reserve 12,000 square feet (up from an initial 2,000 square feet) of space for art studios. DNAInfo notes that even if the current application is rejected down the road, building owners Jerry and David Wolkoff can still raze and rebuild at the site.