The Moinian Group Reveals Plans for 1.8-Million-Square-Foot 3 Hudson Boulvard
---
---
The Moinian Group this afternoon offered details about the upcoming 3 Hudson Boulevard, a 1,000-foot tall, 1.8-million-square-foot tower on 11th Avenue between West 34th and West 35th Streets in the thick of the Hudson Yards development.
"For more than two decades The Moinian Group has believed that the new West Side would emerge as Manhattan's most sought-after neighborhood," Joseph Moinian, founder of The Moinian Group, said in a prepared statement. "Our new mixed-use building at 3 Hudson Boulevard will stand as the pinnacle of elegance along the new Hudson Boulevard & Park. With 3 Hudson Boulevard, you are going to see something truly spectacular."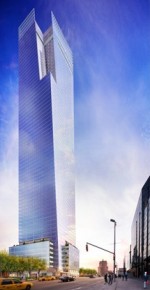 Architect Dan Kaplan of the in-demand FXFOWLE designed the building. In January, Avison Young was tapped to market the property, which will include 1.5-million square feet of Class A office space and 22,000 square feet of retail. There is also an option for an additional 350,000 square feet of institutional space or as many as 14 floors of luxury residences entered, naturally, via a separate "sky lobby" entrance.
"We could have a vertical mall in there, we could have a big box user, and we could have theaters," Avison Young Tristate President Arthur Mirante told The Commercial Observer earlier this year. "From our point of view, we should remain very flexible."
The anchor office tenant will be able to display its logo on the corner LED walls of all base floor frontages. Construction on 3 Hudson Boulevard is slated to begin next year, and the involved parties are shooting for a 2016 opening.