The Co-Work Generation Takes NYC
---
---
For eight months, since the inception of the co-working space Alley NYC in Midtown, Harry Raymond was hard at work on the 17th floor of 500 Seventh Avenue with his team developing Shindig, an iPhone app that helps users identify liquors, wines and cocktails. Mr. Raymond, co-founder and chief executive of the company, is now working out of Hamilton, NY, as part of the Entrepreneurs of NY Fund.
Shindig represents a success story for New York co-working and an achievement of the goal of space providers: for members to outgrow their space.
"We are successful if we help companies outgrow us," said Jesse Middleton, co-founder of WeWork Labs, during a tour of WeWork's 175 Varick Street space last month.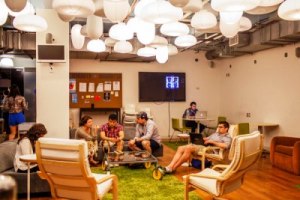 As the New York startup scene, or Silicon Alley as it is known, has exploded over the past five years, so has the availability of co-working spaces. Since 2008, big industry names like New Work City, Grind, General Assembly, Wix, WeWork and Alley NYC have opened about 15 co-working spaces across the city, but a recent report from ABS Real Estate estimates that there are between 40 and 50 co-working spaces in New York.
With this growth comes inevitable challenges. Many of the city's largest landlords have rejected co-working space providers in hopes of eventually opening their own co-working or boutique office space businesses, and some already have. Further, the question remains just how many more co-working spaces New York can genuinely handle. Indeed, some brokers worry that a critical mass may already be approaching.
"These operations are expanding in the city exponentially," said Michael Cohen, president of the tristate region at Colliers International. "Everyone is in the market for more space. The question remains, how much can New York City really absorb?"
The number of co-working spaces in New York is linked directly to their profitability as a cash-generating business model, brokers and owners told The Commercial Observer.
"Co-working is a viable option financially, because you can sell one desk multiple times," Jason Saltzman, founder of Alley NYC, told The Commercial Observer during a tour of its space, which was relatively hushed on a Friday, with a handful of members milling about the common area.