Sotheby's to Sell New York Headquarters
---
---
The Upper East Side headquarters of international auction house Sotheby's is being marketed for sale by Easdil Secured, the New York Post reported earlier this week.
The building at 1334 York Avenue, between East 71st and 72nd Streets, is being marketed by brokers Douglas Harmon and Adam Spies with hospitals, residential developers, and hotel operators among the likely suitors.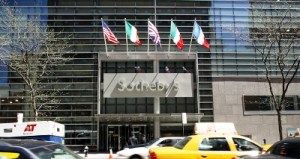 In the event of a sale, Sotheby's is planning to lease back the facility until it finds a new location, according to the Post. The auction house, which purchased the building for $370 million in 2009 after having leased it since 1979, has hired Peter Riguardi and Alexander Chudnoff of Jones Lang LaSalle to find a new home.
"Given the location of our building, the current real estate market, the unsolicited interest we've received in our property and our responsibility to our shareholders, we are exploring our options," Andrew Gully, Sotheby's spokesperson, told the Post.
Sotheby's did not return requests for comment.