REBNY Gives Retail Deal of the Year Honors to David LaPierre, Jacqueline Klinger, Chase Welles
---
---
Brokers who brought big name chain retailers to a pair of Jeff Sutton properties won big last night at the Real Estate Board of New York's Retail Deal of the Year Awards at 101 Park Avenue.
David LaPierre of CBRE (CBRE) nabbed the prize for  "most ingenious and creative retail deal that demonstrates exceptional broker acumen" for a transaction that brought Express to 1552-1560 Broadway. Jacqueline Klinger and Chase Welles of SCG Retail's success in landing Whole Foods in Harlem (at 100 West 125th Street) were deemed the brokers behind "the retail deal which is most significant in its overall characteristics and importance to the New York City Retail Market"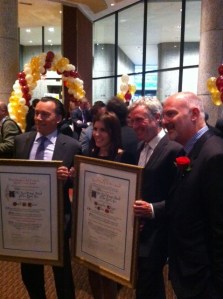 Mr. LaPierre was recognized for his swift work in bringing Express to a 30,000-square-foot right by the Times Square Bowtie. The apparel tenant had grown frustrated with the pace of negotiations at 4 Times Square. Ms. Klinger and Mr. Welles won plaudits for their patience in dealing with the notoriously picky Whole Foods.
As Mr. Welles said in his acceptance speech to a well-fed and well-lubricated crowd at the 101 Club, when dealing with Whole Foods "patience is not only a virtue, but a requirement."