Jack Terzi of JTRE on Growing, Organically
---
---
Shortly after launching his eponymously named real estate business, Jack Terzi was approached by Apogee, a thrift store chain that operated 18 branches in Minnesota and Maryland, about opening in New York and New Jersey, which, compared with the chain's traditional markets, were a "totally different animal."
To facilitate the process, JTRE conducted traffic reports and demographic studies to identify the right markets to pinpoint across the region.
"We explained to them, go to Fulton Street in Brooklyn and pay the big rent," said Mr. Terzi, chief executive officer of Jack Terzi Real Estate. "Pay over $1 million in rent, because you're going to make three times as much as you did outside [New York]."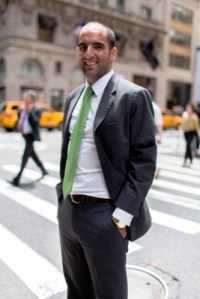 Since those early conversations, JTRE and Apogee have gone on to complete 12 transactions totaling 1.5 million square feet.
Mr. Terzi started JTRE in 2008, at the height of the Great Recession. Then a retail broker at Hidrock Realty, the Gravesend native noticed much of the firm's focus was placed on hotel and office deals, and decided to concentrate on his passion for retail born from his family's business, which sold clothing and toys.
"I had the relationships with the owners and the tenants," Mr. Terzi said. "I was confident it was the right time."
Mr. Terzi has worked aggressively since then, expanding the business from just two employees—he and a colleague—to 30, spread across JTRE's brokerage, acquisitions and consulting divisions.
Waking at 5 a.m., Mr. Terzi begins his day with a workout and then gets to work, reading industry news and answering emails before tending to clients until 10 at night. "I'm always going," Mr. Terzi said of his schedule. "I'm all-in, all day."
JTRE likes to focus on clients from outside the market that are looking to expand to New York, like Apogee, or clients with ambitious growth plans, such as Organic Avenue.
"We don't do the Duane Reades and CVSes," Mr. Terzi said of JTRE's business model.
Organic Avenue, an organic juice and food retailer, signed up with JTRE with hopes of expanding in New York, but Mr. Terzi had competition from a larger brokerage firm. As with the majority of his clients, Mr. Terzi insisted on an exclusive agreement.
"Not to sound arrogant, but with all the work we're going to put in, it's not worth it without it," Mr. Terzi said. "If we're going to give it everything, you have to commit to us."
The agreement with Organic Avenue has yielded a unique retail platform. When the retailer first started working with JTRE, it was only interested in 1,000-square-foot spaces on the best corners, but the brokerage was encountering quality options in the 2,500-to-3,500-square-foot range, and the landlords could not be convinced to break up the spaces.
As a solution, JTRE offered to combine Organic Avenue locations with similar health and fitness tenants, unearthing quality opportunities.
Having created a presence in the New York market, JTRE is expanding nationally, working with Italian furniture store chain Modani on locations in Miami, Los Angeles, Atlanta and other major cities. In support of his national business, Mr. Terzi was in Miami last week and spent the early part of this week in Los Angeles.
Mr. Terzi's travel schedule is all to maintain his firm's focus on its clients, which includes a concierge service.
"Whatever our clients need, we try to add more value," Mr. Terzi said, noting that he does not like to use the term "full-service," because most firms that make that claim don't deliver. Services offered by JTRE include hotel and dinner reservations, car service and assistance with apartment searches.
"If the client needs something, we do it," Mr. Terzi said.