Williamsburg Pizzeria La Nonna Expanding to Luxury Building 184 Kent This August
---
---
The Bedford Avenue pizzeria La Nonna will add a second Williamsburg location after signing a 15-year lease for 3,761 square feet at the luxury rental building 184 Kent. The pie slinger will join Soul Cycle (which opens this weekend), Pudge Knuckles Coffee and Pure Cleaners in the waterfront property's 18,000-square-foot retail base.
The tenant represented itself in the transaction. Geoff Bailey of TerraCRG represented the landlord, JMH Development. Mr. Bailey said asking retail rent is $65 a foot.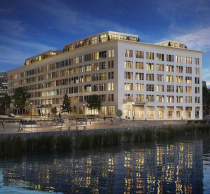 JMH began leasing 184 Kent's 338 apartments in 2010. The building was formerly the home of grocery wholesaler Austin, Nichols & Company and is listed on the National Register of Historic Places. Currently, 6,650 square feet of retail space remains on the market. La Nonna is expected to open this August with a larger trattoria feel than the Bedford Avenue slice joint.
"It will be an expanded Italian menu," Mr. Bailey said. "Right now they're in about 1,200 square feet on Bedford. The chef, Cono Morena, is a character. He's the nicest guy and an incredible chef who's also built like a bodybuilder and is covered in Polynesian tattoos. He needs a restaurant where he can serve a full menu." Mr. Cono also owns the restaurant with his wife, Anna.