The Rabbi of Realty: Lipa Lieberman of Eastern Consolidated on Balancing Religion with Real Estate
---
---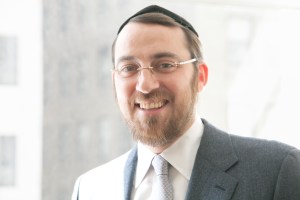 Growing up in the Hasidic community of Midwood, Brooklyn, Lipa Lieberman noticed early on that his most successful neighbors owned real estate.
"Real estate was always in the back of my mind," said Mr. Lieberman, 33, a senior director at Eastern Consolidated. But before he entered the industry, Mr. Lieberman earned a bachelor's degree in Jewish studies at Rabbinical College of America and attended the Central Tomchei Temimim Lubavitch, where he was ordained as a rabbi.
"You're ordained because you study Jewish law in college and then take the rabbinical equivalent of the bar exam," Mr. Lieberman said. "You don't necessarily do it to practice in a synagogue." Although he never led a congregation, Mr. Lieberman's religious background—he's a member of the Chabad sect and spent time abroad at a Chabad center in Venice, Italy—did inform his secular career choice.
"Even in the general Orthodox community," he said, "a lot of people didn't go to college and didn't have a regular upbringing. When they made some money in the schmatte business or electronics, they didn't invest in the stock market. They didn't understand it. They understood bricks. Many are second- or third-generation Holocaust survivors, or from immigrant families, Ashkenazi and Sephardic, and owning a piece of Brooklyn or Manhattan—tangible ownership of America—is something they understood."
Mr. Lieberman's education in real estate began when a Californian friend of his brother's—he has five brothers and a sister—was looking for a property in Manhattan, a search entrusted to Mr. Lieberman when he was just out of college. From there, he opened a small construction firm that bought, rehabbed and sold multi- and single-family homes in and around Midwood.
When describing the Chabad movement within Hasidism, Mr. Lieberman stresses its inclusivity. "We don't believe in just contracting into ourselves," he said. "Chabad is about outreach to and educating Jews who may not be aware of Jewish customs, laws and holidays. It's more about educating than preaching."
That aspect of Chabad helps explain Mr. Lieberman's ability to extend himself to mediate between real estate players of various persuasions and power, both within and outside of Hasidic enclaves.
The most pertinent crossover skill between rabbinical studies and real estate, Mr. Lieberman said, is "being able to manage difficult egos and personalities."
Mr. Lieberman has been building his name at Eastern Consolidated since he joined the real estate investment services firm in 2009. (His quiet modesty suggested a refreshing lack of outsize or difficult ego.) He became interested in Eastern after competing with the firm on a deal while at Cornerstone Properties. "I realized," he said, "that it was better to be playing on the bigger team."
He said he made only one deal in 2009, "but then again, it was a down year." In 2010 and 2011, he made several note deals and, in 2010, sold the first mortgage—for $39.5 million—at 555 Avenue of the Americas, a property bought from the shuttered St. Vincent's Hospital. He also began to work frequently with Eastern heavyweights like Chairman and Chief Executive Officer Peter Hauspurg and Executive Managing Director David Schechtman.
"I'd always felt like I was missing out on collaboration," Mr. Lieberman said, and Eastern, which relishes the chance to match talented, hungry young brokers with established veterans, provided ample opportunity for it.
Mr. Lieberman's breakthrough deal came in 2011 when he, along with Mr. Schechtman, represented the U.S. Bankruptcy Court in its sale of 114 West 86th Street. An eight-year family dispute over the 16-story, 49-unit rental building had lumbered through the New York, Florida and California courts until the local real estate owner Robert Gilardian placed a winning bid of $20.1 million for the property in a Los Angeles bankruptcy auction. That thorny transaction contributed to Eastern naming Mr. Lieberman the firm's "Rising Star" that year.
While the 114 West 86th Street saga approached resolution, Mr. Lieberman stealthily courted the owners of another prestigious, if faded, Upper West Side property. The Chatsworth, a prewar rental building at 344 West 72nd Street (at Riverside Drive) had been owned by the same family for 67 years, and had lost much of its Beaux Arts luster since the 1970s.
"I made a cold call to the owners in 2009," Mr. Lieberman said. "It was the week between Christmas and New Year's, when most people were out of the office. I reached out at the right time, I guess, and caught the owner at the right moment. We had buyers looking for this asset at the time. So I built a relationship with the family. There were five family members, and let's just say we had to unify them."
Last December, just hours before the new year and three years after Mr. Lieberman made that cold call, HFZ Capital Group closed on The Chatsworth for $150 million. There was chatter in the blogs that HFZ managing principal Ziel Feldman might lead a condo or co-op conversion of the building, many of whose units are rent-controlled.