Plans Emerge for 27,000 Square Feet of Avenue A Retail
---
---
Commercial real estate brokerage Ripco has listed two Avenue A properties with nearly 27,000 square feet of retail space between them.
The listing for 181 Avenue A follows news reported by EV Grieve last week that developer Douglas Steiner had filed permits to demolish a church, school and rectory on a parcel it bought for $41 million from the Archdiocese of New York last fall. Mary Help of Christians church was forced to evacuate its home last September when a neighboring building was in danger of collapse.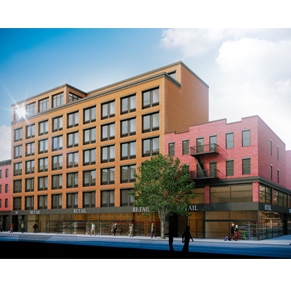 Plans for 181 Avenue A include 11,356 square feet of retail space and a possible basement space totaling 11,508 square feet. A 140-unit luxury rental building will rise above the ground floor. Down the street, 15,617 square feet of retail is on the market at 98 Avenue A, between East Sixth and Seventh Streets. A 40-unit apartment building will top that space on what was the site of the East Village Farm deli and grocery.