Home to 'Happy Ending Lounge' Trading Hands
---
---
Commercial real estate firm KLOSED is in the process of acquiring a 3,950-square-foot retail condominium at 302 Broome Street, the former site of an "erotic" massage parlor and home to the Happy Ending Lounge, The Commercial Observer has learned.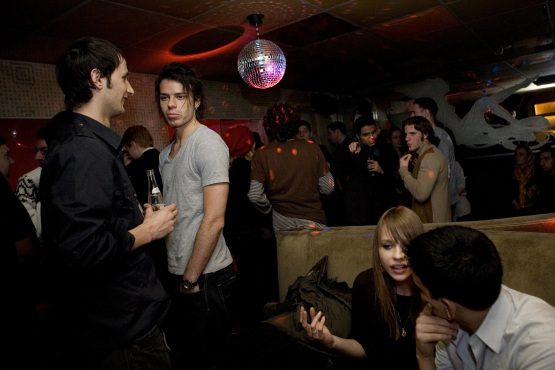 The $1,726,000 all cash transaction required a 10 percent "hard deposit," an email sent by KLOSED stated.
In massage parlor verbiage, the giving of a hand job by a masseuse, as part of a massage itself or perhaps directly after it, has been referred to as a "happy ending," and some New York City massage parlors allegedly offer the sexual procedure.
"Most of these spots stink of human trafficking and bacterial infections, but fappers can't be choosers," according to gridskipper.com.
The aptly named Happy Ending Lounge has occupied the space for a decade after taking over the premises of the former massage parlor and transforming it into a two-floor club that features intimate, red-velvet booths and party rooms that once housed extremely steamy saunas.
The lounge often pokes fun at its past.  For a period of time it was host to The Red Umbrella Diaries, where people who had supposedly worked in the sex trade gathered to share stories.
Michael DeCheser and Darragh Clarke from Massey Knakal represented the seller and Michael Hayes of Boxers Realty represented the buyer.  The Massey Knakal brokers were unable to comment because of the ongoing negotiation process.  Mr. Clarke did not immediately return calls seeking comment.
In recent months KLOSED closed on properties at 90 William Street for $4.25 million and 145 Mulberry Street for $4 million.
KLOSED did not return calls seeking comment before press time.  It was unclear whether the lounge would be impacted by the sale.
145 Mulberry Street
,
302 Broome Street
,
90 William Street
,
Boxers Realty
,
Darragh Clarke
,
gridskipper.com
,
hand job
,
happy ending
,
Happy Ending Lounge
,
KLOSED
,
Massey Knakal Realty Services
,
Michael DeCheser
,
Michael Hayes
,
sex
,
The Red Umbrella Diaries