Banking on Hospitality: Hidrock Realty's Hotel Play
---
---
Every day, Jack Hidary walks the same Garment District streets that his grandfather, an apparel businessman, walked in the 1940s. "We probably go to the same shoeshine guy," he said.
Mr. Hidary, the founder and CEO of Hidrock Realty, works out of a building on West 36th Street, and the family bonds are far more palpable than the Hidarys' garmento history in the Midtown neighborhood. Jack works alongside his sons Abraham, Eddie and Steven at the 31-year-old company.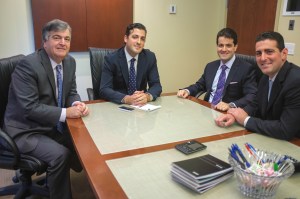 Real estate "wasn't necessarily the game plan growing up," Eddie said. "But as we got older and went to college, we started working here during the summers as interns and learned the business. That's when I decided that I wanted to grow this company to the next level. And there's no place like New York City."
From its modest roots in suburban strip-mall ownership, Hidrock has amassed a portfolio spanning commercial offices, retail spaces, residential buildings and hotels that is worth roughly $1 billion by internal estimates.
The full-service firm's recent foray into hotels has turned heads in the industry. In late 2009, Hidrock purchased a defaulted senior mortgage on 960 Avenue of the Americas for $40 million, and it won the 100,000-square-foot office property in a foreclosure auction eight months later. The note owner, Société Générale, had provided a $95.1 million loan to the Italian firm Statuto Group, which paid $105 million for the building shortly before the crash.
In the summer of 2010, Hidrock announced a $25 million, 168-room hotel conversion. Almost simultaneously, the company bought two low-rise buildings at 25 West 37th Street that it quickly decided to demolish and replace with a 173-room hotel. The Courtyard by Marriott at 960 Avenue of the Americas and the SpringHill Suites by Marriott at 25 West 37th Street will both open this month.
Late 2009 and early 2010 seemed a ripe time for hotel development, particularly in the Garment District, and not just because economic conditions allowed for bargain-basement acquisitions. "We saw a trend of a lot more tourists coming to the Herald Square area," Eddie said. "You have Macy's, the Empire State Building, the 34th Street retail corridor and Bryant Park. And we also saw a trend that the best use for a building in some cases was no longer office buildings, but hotels."
Last year, a record 52 million tourists visited New York City. That was up from just 35 million international and domestic visitors in 2002. Mayor Michael Bloomberg listed the city's cultural institutions and its reputation for safety as the main drivers of the industry, and said the goal was to have 55 million visitors by 2015.
"Ten times out of 10," Abraham said, "if you have the ability to build a 100,000-square-foot building, a hotel use will be the best economic decision."
The Herald Square area (or the Garment District, or, more recently, the Fashion Center) is changing in ways other than increased tourism numbers. And the Hidary family, with its 70-year history in the neighborhood, is well qualified to take advantage of it. "It was all jewelry and apparel," said Abraham, who sits on the board of directors of the Fashion Center Business Improvement District. "Then we started to see the higher-end showrooms, and then the professionals and creative types—tech, software—came in. That was a seven- or eight-year trend."
In addition to its local hotel properties, Hidrock owns four office buildings in the neighborhood, three of them on one block of West 36th Street and the other at 240 West 35th Street, which the firm recently reversed course on and decided not to sell, as it had announced it planned to earlier this year. (The Hidarys estimate that their portfolio is split more or less evenly between office, hotel and residential holdings.) In January, the company bought a parking garage at 59-61 West 36th with 86,900 square feet of developable space for $28.5 million.
"If you take a picture today of 36th Street and look at one from five years ago, there's no comparison," Jack said. "The hotels are going up, and building setbacks have added a prettiness to the street. Also, come 8 o'clock at night, there's action in the streets. People are walking, coming and going. There's life."
On that note, Hidrock's retail spaces on 36th Street have evolved from wholesalers to an 8,000-square-foot Irish pub, a pizzeria and a martial arts studio. Abraham said that hotels in the neighborhood are 90 percent occupied.
As busy as Hidrock is in the Garment District, the firm's portfolio extends across the city. Last spring, the firm purchased a development site at 133 Greenwich Street, near the World Trade Center site, for $27.9 million. The firm again will partner with Marriott, this time on a 30-story, 317-key Courtyard by Marriott due to open in 2015.