NGKF Nabs REBNY Most Ingenious Deal of the Year Award
---
---
The Newmark Grubb Knight Frank team of Barry Gosin, Brian Waterman and Romel Canete was awarded the Real Estate Board of New York's Henry Hart Rice Award for the Most Ingenious Deal of the Year Award at the trade association's 69th annual cocktail reception yesterday evening. The deal, which was a lease for Morgan Stanley at One New York Plaza, closed in April of last year.
The judging committee evaluated 37 dealmakers across sales, lease and finance transactions over the last year. So impressive were the submissions, that a presenter at last night's event at the 101 Club wondered aloud whether the authors of the submissions had advanced degrees in creative writing.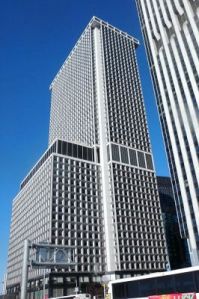 Morgan Stanley's 1.15-million-square-foot lease at One New York Plaza returned 2,300 back-office financial services jobs to New York City. Over the course of two years, the NGKF team created a long-term occupancy strategy for the investment bank's back-office capabilities both in New York and New Jersey and also formed a unique transaction structure which enabled Morgan Stanley to renew their lease early.
"We applaud our commercial brokers for closing these clever and creative deals," said Steven Spinola, REBNY President, in a prepared statement. "The year's top prize went to a truly significant deal that will help a major financial institution bring back thousands of jobs to New York City."
REBNY's second place Robert T. Lawrence Award was presented to Helen Hwang and Nat Rockett of Cushman & Wakefield in recognition of the sale of 88 Leonard Street in Tribeca. The C&W team was recognized for managing varied interests of several stakeholders, creating solutions to assist Africa Israel in the development of the property.
Scott Singer and Jeffrey Morock of the Singer & Bassuk Organization received the third place Edward S. Gordon Award for the $35 million construction financing of 50 Oceana Drive West in Brighton Beach. The financing for the Muss Development property was nearly scuttled by Hurricane Sandy and was in fact one of the first construction loans to be closed in an evacuated area following the storm, Mr. Singer told The Mortgage Observer.
"The winners of our second and third-place prizes devised innovative solutions in the face of unique circumstances, including one that closed in the aftermath of Hurricane Sandy," Mr. Spinola added. "Their hard work enabled successful transactions to be completed for two major residential properties."
Last year, Tara Stacom and Michael Rotchford of Cushman & Wakefield took the Most Ingenious Deal of Year Award for representing the landlord at One World Trade Center in the lease negotiations with publisher Conde Nast. The "incomparable" Mary Ann Tighe, as she was described yesterday evening, took second place for representing Conde Nast in the same deal.
"It took years of work to get the building to a point where a tenant like Conde Nast would even consider it," Ms. Stacom said at the time.
1 New York Plaza
,
50 Oceana Drive West
,
88 Leonard Street
,
Africa Israel USA
,
Barry Gosin
,
Brian Waterman
,
Cushman & Wakefield
,
Helen Hwang
,
Jeffrey Morock
,
Morgan Stanley
,
Most Ingenious Deal of the Year
,
Nat Rockett
,
Newmark Knight Frank
,
Real Estate Board of New York
,
Romel Canete
,
scott singer
,
Singer & Bassuk Organization
,
Steven Spinola