Nearly Half of 1Q13 Transactions Were Renewals
---
---
Leasing activity in the first quarter of 2013 totaled 7.15 million square feet, a 30 percent increase from each of the last two quarters of 2012. However, peeling back the layers reveals that 46 percent of these lease transactions were renewals. Yes you read that correctly—almost half of the square footage leased in the first quarter was renewals. Seven out of the top 10 transactions were large tenants opting to remain in place; this is a big contributor to the trend.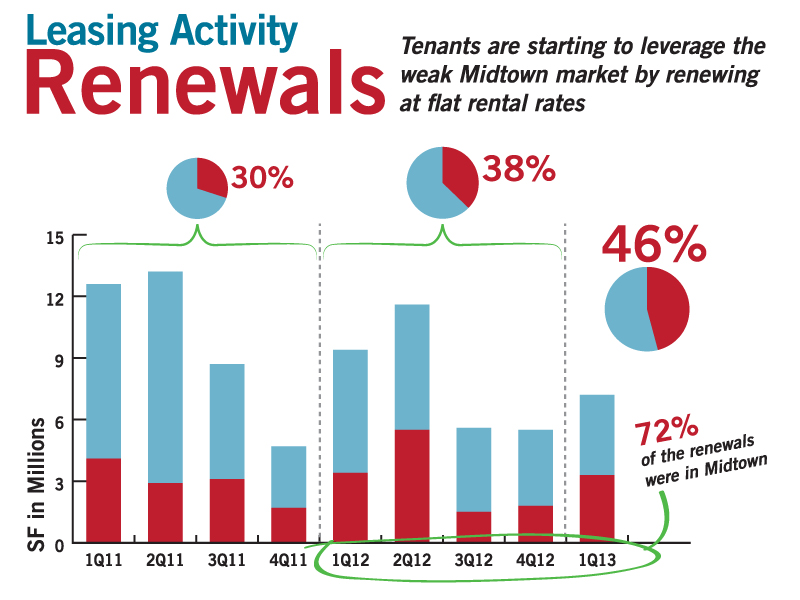 These seven transactions ranged from M&T Bank's 102,000-square-foot renewal at 350 Park Avenue to Sony's three-year renewal of 798,428 square feet at 550 Madison Avenue.
The renewal trend has been rising in recent years. Looking back at leasing activity from 1997 to 2008, lease renewals accounted for an average of 30 percent of leasing volume. Over the next four years, that average increased to 35 percent. Last year, lease renewals accounted for 38 percent of the leasing volume, the second-largest percentage since 1997, after 2009's 40 percent. Now, that is not to say that renewals accounting for 46 percent of leasing activity is the new norm, as one quarter does not make a trend. But renewals are a big part of the Manhattan leasing activity, and the second quarter has already started big with the announcement that law firm Simpson Thacher & Bartlett LLP renewed 595,000 square feet at 425 Lexington Avenue.
It's no surprise that 72 percent of the renewals in the last five quarters occurred in the weakening Midtown market. A high volume of lease renewals is typical in a down market, as large tenants will avoid the up-front capital costs associated with a move while taking advantage of stagnant rents. Meanwhile, the thriving Midtown South market saw only 6 percent of the renewals.

Richard Persichetti is the vice president of research, marketing and consulting at Cassidy Turley, with 14 years of NYC research experience.