Lefrak Organization Sued Over Alleged Discrimination
---
---
LeFrak Organization is being sued for allegedly discriminating against potential residents on the basis of disability and source of income at Lefrak City in Queens.
The housing complex engages in "systemic discrimination based on source of income and disability," according to Housing Works, which announced the lawsuit on behalf of the Fair Housing Justice Center and client Lorelei Chacon last week.
The lawsuit stems from a complaint from Ms. Chacon, a 37-year-old woman living with AIDS, who claims that when trying to secure a spot in the 40-acre complex she was referred to a separate office that handles renters who pay with government subsidies and was subjected to a series of checks and balances that are not required of employed renters.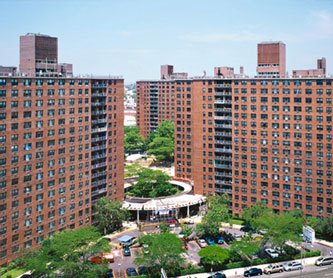 "Operating a dual and discriminatory rental application process that imposes additional hurdles to rent apartments for people with rental subsidies is [a] source of income discrimination," said FHJC Executive Director Fred Freiberg, in a statement.  "Enforcing a requirement that effectively makes housing unavailable to anyone living with HIV/AIDS who have a HASA (HIV/AIDS Services Administration) rental subsidy is discrimination based on disability."
The complaint states that Lefrak Organization and management company Estates NY Real Estate Services LLC discriminated against Ms. Chacon by subjecting her to credit and background checks and requiring a letter from HASA outlining the maximum subsidy it would pay out.
FHJC uncovered the alleged discrimination when it sent undercover agents to investigate Ms. Chacon's complaint.  Where employed potential renters are referred to a "convenient, on-site leasing office," LeFrak treats those using subsidies "differently and less favorably… in violation of the federal Fair Housing Act and the New York City Human Rights Law," according to Housing Works.
Mr. Friedberg said the lawsuit is "intended to dismantle a discriminatory system, repair the harm caused by these practices, and ensure that thousands of rental housing opportunities are available on an equal basis to all renters with public subsidies and to New Yorkers living with HIV/AIDS."
The Lefrak Organization did not respond to The Commercial Observer's requests for comment.
Richard Lefrak, chairman, president and CEO of Lefrak Organization, placed N. 16 on the The Commercial Observer's Power 100 list for 2013, which was incidentally released today.