Law Firm Renews at 425 Lexington Despite Pending Sale
---
---
Law firm Simpson Thacher & Bartlett LLP has renewed its lease of 595,000 square feet at 425 Lexington Avenue despite the property being marketed for sale.
The firm's new lease is a 15-year extension from 2018, expiring in 2033. Asking rents were not disclosed.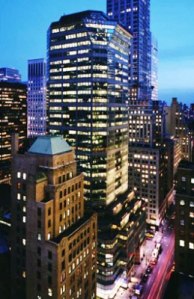 Simpson Thacher & Bartlett occupies 26 of 425 Lexington's 31 floors, or 80 percent of the building. The 750,000 –square-foot property's other major tenant is Canadian bank CIBC, whose lease expires in 2018 and has yet to renew.
Under the terms of the renewal agreement, Simpson Thacher & Bartlett will have the option to modify the existing design of their space.
"I would expect that although they are not taking more space, they will be adding more people," Tommy Craig, senior managing director at Hines, the building's current owner, told The Commercial Observer.
The building at 425 Lexington was brought to market approximately six weeks ago, along with another Hines' property at 499 Park Avenue. The properties can be sold on a stand alone basis or together, Mr. Craig noted. The bid deadline was recently extended until the end of April, he added.
The properties are part of Hines' U.S. Core Office Fund and their respective sales are part of a long-term investment strategy.
"The Core Fund is going to execute, over three to five years, a liquidation of the portfolio asset by asset to realize value," Mr. Craig said. "The assets have done exceptionally well and represent large value in the aggregate."
Lewis Miller, Ken Rapp and Ramneek Rikhy of CBRE represented Simpson Thacher in the lease negotiations. The Hines U.S. Core Office Fund was represented in-house.
The sale of 425 Lexington Avenue is being marketed by Eastil Secured and CBRE.
425 Lexington Avenue
,
499 Park Avenue
,
CBRE
,
CIBC
,
Easdil Secured
,
Hines
,
Ken Rapp
,
Lewis Miller
,
Ramneek Rihky
,
Simpson
,
Thacher & Bartlett LLP
,
Tommy Craig
,
U.S. Core Office Fund