Digital Video Company Expands in Hudson Square
---
---
Splashlight Photographic and Digital Studios has signed a five-year lease for 14,000 square feet at Trinity Real Estate's 225 Varick Street, it was announced today.
The company also occupies 63,000 square feet on the third floor of Trinity's 1 Hudson Square. Asking rents for 225 Varick are $45 per square foot.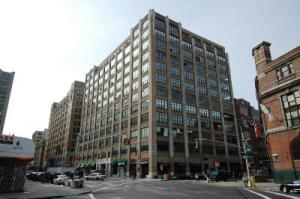 "Over the past decade, Hudson Square has become a hub for the creative and media community, providing a home for these companies that are so vital to the city's future," said Jason Pizer, president of Trinity Real Estate, in a prepared statement. "We are delighted that Splashlight continues to grow and remains dedicated to the neighborhood."
Splashlight has been a tenant at 1 Hudson Street since 1997 and is expanding to 225 Varick Street to house new studio facilities for its work with Nordstrom.
British television company Optomen Productions, a British production company, has also expanded at 225 Varick Street, expanding their footprint by 4,700 square feet to 17,500 square feet. The firm signed a nine-year expansion deal for space on the fifth floor that is co-terminus with the original lease.
Earlier this month, The Commercial Observer, profiled another new tenant at 225 Varick Street, the restaurant Clarkson, which opened in March.
Completed in 1926 and located between West Houston and Clarkson Streets, 225 Varick Street features a completely renovated lobby. The 377,000-square-foot, 12-story property is also home to the National Audubon Society, Workman Publishing and retail tenants New York Sports Club and HSBC.
Tom Lynch represented Trinity Real Estate in-house. Michael Frantz of Newmark (NMRK) Grubb Knight Frank represented Splashlight Photographic and Digital Studios.
225 Varick Street
,
HSBC
,
Jason Pizer
,
Michael Frantz
,
National Audubon Society
,
New York Sports Club
,
one hudson square
,
Optomen Productions
,
Splashlight Photographic and Digital Studios
,
Tom Lynch
,
Trinity Real Estate
,
Workman Publishing
,
Newmark