Blurred Lines: What Happens When Flatiron District and NoMad Combine?
---
---
Just a few years ago, the NoMad district was more like a no-man's land, made up of a less-than-pretty arrangement of gritty wholesalers, hair salons and counterfeiters.
Some of that persists, but the before-and-after contrast with the new wave of retailers and clientele in the neighborhood couldn't be starker, as its boundaries with the similarly much-improved Flatiron District begin to blur.
"They're starting to blend into each other," said Michael Azarian, director of retail leasing at Massey Knakal. "The neighborhood has seen a flood of new boutique office tenants, [and] new residential and hotel developments that have been catalysts for change."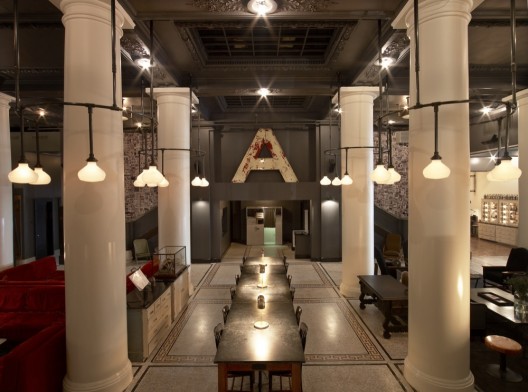 The centrally located area between 26th and 30th streets and Park Avenue and Broadway couldn't be better-placed amid the vast Midtown landscape, a realization that materialized first with the Ace Hotel in 2009 and later with the NoMad Hotel in 2012, hotels whose restaurants and bars have primed the area for retail expansion and a clientele that's reflective of the area's changing demographics.
"In some cases, you have double the rents from what wholesalers were paying to what the new tenants are paying," Mr. Azarian said.
The first East Coast outpost of a Seattle-based brand, the Ace Hotel both captured and helped influence that demographic shift. It made the case for higher-end retail in the area, in much the same way Mario Batali's Eataly has done for the Flatiron District.
The hotel features Roman and Williams-designed rooms, each of which has a condo-like feel, a record player and even a guitar resting in the corner, with extra strings available at the front desk.
"If you go down to the Ace, you'll see that the lobby is filled with wifi-using coffee drinkers," Mr. Azarian said, "And the bar is always packed at night … but it's not just tourists—those are the people who live in the neighborhood now."
Inside a 1903 Beaux-Arts tower on Broadway and 28th Street lies the 168-room NoMad Hotel, whose elegance perhaps provides the latest glimpse into the future of the neighborhood, represented by relative food and drink newcomers like the John Dory Oyster Bar, The Breslin, whiskey parlor The Flatiron Room and, most recently, Num Pang, a Vietnamese sandwich shop.
"The boundaries are really blurring ever since Eataly and all the traffic that it brought," said Douglas Elliman's Faith Hope Consolo. "With more food and restaurants, fashion will follow."
Meanwhile, developers are keeping pace with residential and hotel development projects.
The Witkoff Group is busy converting the Toy Building at 10 Madison Square West into condos, with sales set to launch in late spring. A 35-story luxury rental is set to rise at 309 Fifth Avenue, sources said, and a new 300,000-square-foot hotel development is under way at 1205-1225 Broadway, where developer Jon Lam reportedly purchased two commercial buildings for $72 million in 2011.
"That area was all manufacturing and no-name shops—now it's really establishing its retail identity," Ms. Consolo said.
10 Madison Square West
,
1205-1225 Broadway
,
309 Fifth Avenue
,
ACE HOTEL
,
Douglas Elliman
,
Faith Hope Consolo
,
John Dory Oyster Bar
,
Mario Batali
,
Massey Knakal Realty Services
,
michael azarian
,
NoMad district
,
NoMad Hotel
,
Num Pang
,
Roman and Williams
,
The Breslin
,
The Flatiron Room
,
The Witkoff Group
,
Toy Building