The Grocer's Daughter: Winick Realty's Lori Shabtai on Manhattan's Evolving Retail Landscape
---
---
What a difference five years makes. When Winick Realty Group Executive Vice President Lori Shabtai marketed a 13,000-square-foot retail space at 459 Broadway in 2008, she hinged part of the sell on the cachet of the intersection of Broadway and Grand Street.
"I called it the heart of Soho," Ms. Shabtai, 52, said during an interview in her well-appointed (and well-heated) office. "I remember a broker calling me and saying, 'That's more like the colon of Soho.'"
That any doubts persisted so recently about the viability of that block attests to the dizzyingly fast rate of change in New York real estate. The interaction also attests to Ms. Shabtai's prescience and her quick mastery of the steep learning curve in commercial real estate, a field she entered just eight years ago.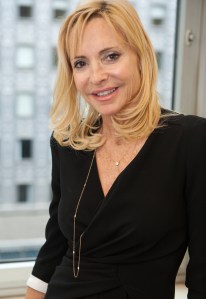 Although Ms. Shabtai didn't land at Winick until 2005, her retail roots run deep. Her father, Mel Weitz, presided over the MelMarkets (a k a Foodtown) supermarket chain on Long Island. "The supermarket industry works on 1 percent profit margins," Ms. Shabtai said. "So from a very young age, I learned the importance of making money in every square foot."
Her father's work ethic put a slight damper on certain childhood rites of passage. "When most kids went to Florida on vacation, they went to Disney World or the beach," Ms. Shabtai said. "We looked at Publix stores."
Still, Ms. Shabtai joined the retail ranks on her own as early as she could. As a 14-year-old, she worked after school at Lonny's, the equivalent of Scoop or Calypso on 1970s Long Island. From there, Ms. Shabtai matriculated at New York University, where she majored in government and minored in philosophy.
After graduating, Ms. Shabtai worked at Riding High, a cutting-edge boutique on the Upper East Side. "It was really the first store to sell designers like Azzedine Alaia, Thierry Mugler and Karl Lagerfeld," Ms. Shabtai said. "At that time, Bergdorf catered to your grandmother and Barney's was downtown on 17th Street selling suits to chubby men."
Ms. Shabtai's retail background extends to jewelry, where she worked in wholesale, retail and as a diamond dealer. She also moved up from receptionist to vice president of Big Apple Connection in her first week at the small jeans label. Ms. Shabtai launched Di Modolo, a fine jewelry company, on September 18, 2001, "possibly the worst time in the world's history to launch anything, let alone a luxury brand on Madison Avenue."
Through it all, real estate never crossed her mind. In 2005, the uptown furrier and designer Dennis Basso told her she might consider joining the industry. "I didn't take it very seriously," Ms. Shabtai said. "Then I took the licensing course at Marymount and my teacher said to me that he thought I had 'it.' And that's what really got my brain set on following through with this."
After receiving her license, Ms. Shabtai was offered a position at a luxury brand she preferred not to name. "I'd known Jeff Winick, and I came in to the office to talk to him about the offer. He said, 'Come work with me.'"
1636-1642 Lexington Avenue
,
459 Broadway
,
5 Pointz
,
Azzedine Alaia
,
Big Apple Connection
,
Columbus Square
,
Dennis Basso
,
Di Modolo
,
Jeremy Schwartz
,
Karl Lagerfeld
,
Landmark Theaters
,
Lori Shabtai
,
Mel Weitz
,
Monica Kass
,
Puck Building
,
R.E.I.
,
T.J. Maxx
,
the Puck Building
,
Thierry Mugler
,
Verizon Wireless
,
Whole Foods Market
,
Winick Realty Group
,
Yigal Azrouël