Steinway Agrees to Sell 109 West 57th Street
---
---
Steinway Musical Instruments, the 160-year-old piano manufacturer, has entered into an agreement with JDS Development Group to sell its interest in the Steinway Hall building at 109 West 57th Street.
The agreed price is $46 million with an upward adjustment pending post-closing conditions, according to a statement.
Founded in 1853 by Henry Engelhard Steinway on Varick Street in Manhattan, Steinway has built pianos played by Billy Joel, Cole Porter and Irving Berlin.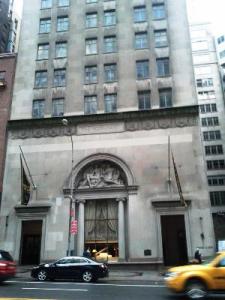 The Steinway Hall building, which houses company's flagship showroom, is 16 stories and 247,000 square feet. The first Steinway Hall was built in 1866 on 14th Street, according to the company's website.
Steinway has the right to occupy the building rent free for up to 14 months after closing, per the terms of the sale. That period can be extended four months subject to a rental agreement.
"The board took great care to balance the needs of all our constituencies – artists, patrons and shareholders – in reaching the decision to sell the company's interest in the building," said Michael Sweeney, chairman and chief executive of Steinway in the statement. "An important consideration was the significant investment required to maintain the building's infrastructure and appearance."
Steinway will work toward the creation of a "21st century Steinway Hall in Manhattan," Mr. Sweeney added.
The transaction is expected to close in the second quarter, when Steinway anticipates realizing taxable gains of $22 million from the sale, the statement noted.