Pepsi Leases First Manhattan Office Space
---
---
PepsiCo has signed a five-year lease for 19,800 square feet on the second floor of 350 Hudson Street, it was announced today. It will be the food and beverage company's first office space in Manhattan.
Asking rents in the building are currently $58 per square foot, according to Jason Pizer, president of Trinity Real Estate, the landlord. Asking rents are up from the time the Pepsi lease was signed, he added.
The building at 350 Hudson Street, completed in 1927, is owned by Trinity Real Estate. The nine-story, 335,066-square-foot building's tenants include PR Newswire. The building also incorporates ground floor retail space for Pret-a-Manger and Hale & Hearty Soups, among others.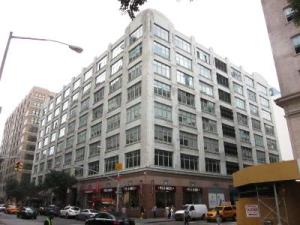 Pepsi will be undertake a build out and would like to occupy the space by the end of the year, Mr. Pizer noted. The build out process will take approximately three to four months, he added.
"Hudson Square is increasingly becoming a destination for major international brands drawn by the energy and unique character of the neighborhood and the quality of the space," Mr. Pizer said in a statement. "We are delighted that PepsiCo has chosen to join our growing community."
As previously reported by The Commercial Observer, Tory Burch signed a lease for 80,000 square feet over two floors at 350 Hudson Street last May. Medidata Solutions signed a 100,000 foot lease in the building in September.
Trinity Real Estate was represented by Mr. Prizer and Charles Laginestra while PepsiCo was represented by Gerry Miovski and Sam King of CBRE.
CBRE declined a request to comment on the deal, citing a confidentiality agreement.
350 Hudson Street
,
CBRE
,
Charles Laginestra
,
Food & Drink
,
Gerry Mivovski
,
Hale and Hearty
,
Jason D. Pizer
,
Medidata Solutions
,
PepsiCo
,
PR Newswire
,
Pret-a-Manger
,
Sam King
,
Tory Burch
,
Trinity Real Estate